We're going to have a new Volkswagen Golf Cabriolet for 2011. It is mildly interesting news as it has been about a decade since a Golf Cabriolet was produced by Volkswagen. This 2 door 4 seater Golf Cabriolet is based on the Mark 6 Golf chassis and is in my opinion one of the most conservative (read: extremely dull) looking cabriolet in the world when it goes on sale soon.
Key features include individual rear seats, a soft top that can be raised and lowered within 9.5 seconds at speeds of up to 30km/h, pop-up rollover protection system (which looks similar to the one used in the Audi A3 cabriolet) and 4 petrol engines that range from the 1.2TSI (105bhp) to the 2.0TSI (210bhp) as well as a 1.6 and a 2.0 turbodiesel engine options.
Now those that ask whether the new Golf cabriolet will eat into the sales of the EOS you have to note that the EOS is more coupe-like and has a hardtop instead of a soft top. It is also 4,215mm in length, making is a whole 208mm shorter than the EOS. Furthermore the EOS looks better. It would be like comparing the Golf with the Scirocco. And as it is based on a hatchback, it looks slightly stumpy with its roof down. This has always been a problem when manufacturers design a cabriolet based on a hatchback. Much like taking a hatchback and turning it into a sedan - with disastrous results like the previous generation Honda City as an example.
Prices start at 23,625Euro over at Germany and I am pretty sure that it would be on sale over here soon. This 2011 Golf Cabriolet will be unveiled officially at the upcoming Geneva Motor Show and will be the darling of most women who wants an affordable solidly built German cabriolet.
Not my cup of tea, but it would be sweet to others I suppose.

- The previous Golf Cabriolet. A Golf Mk 3 launched in 1999, facelifted when the Mk4 Golf was launched and sold till 2002 (also known as the mk3.5) -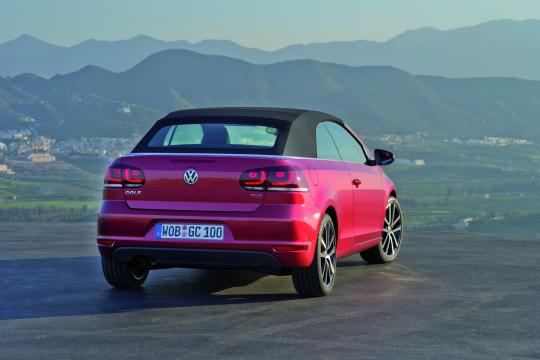 2011 golf cabriolet

,

golf mk6

and 7 more...
Viewed: 975 times