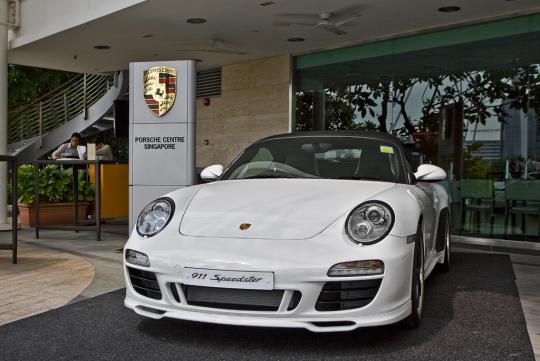 Porsche held a launch event at Prive at Keppel Bay, for the ultra-exclusive Porsche 911 Speedster.
Just 356 of this limited edition sports car will be built, and Singapore gets just the one unit. This white one you see here is the only example available locally, and it has already been spoken for.
The Sppedster is an iconic part of the Porsche's history, with the first one being based on the classic 356 (hence the numbers). Subsequent Speedsters were based on 911s, but they all have that unmistakable Speedster look, such as the double-bubble tonneau cover for the (manually-folding) roof.
Performance is also a Speedster highlight, with the latest one featuring an uprated version of the 911's 3.8-litre flat-six boxer engine, producing 408bhp.
For the lucky dude who managed to snag the one and only 911 Speedster in Singapore, he's bound to be the envy of all his friends.
Let's just hope that the car is properly utilised, instead of being stored in a garage somewhere.

new model

,

events

and 6 more...
Viewed: 837 times