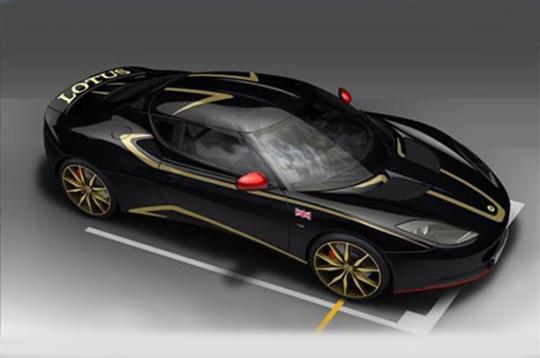 Limited to three units in the UK – The Lotus Evora S Special Edition. The £69,950.00 (before options) Lotus Evora S special edition gets the famous Group Lotus Formula 1 inspired black paint with gold decals as well as gold coloured alloy wheels. The interior gets the Lotus Evora's Premium Pack with SuedeTex and red stiching, Suedetex base pack, Tech Pack and a reversing camera. And that is all you get for a premium of £7,500.00 over the normal Evora S.
But if you think about it a limited run of three units is purely a marketing gimmick to boost sales.
This is why all you're getting is a different paint job for the body and wheels, some red coloured side mirrors and splitters as well as that aforementioned trimming for the interior. Oh yes, there should be a plaque mentioning that this car is 1 out of 3.
Of course, this new car comes hot on the heels of news that an advisor of Lotus had stated that Lotus is not selling enough cars. Lotus was reported to have sold about 272 cars in the first eight months of 2011, compared to 358 in the year before.
Maybe making small, limited runs of three, four or five units for the Evora and other Lotus models is the way to go for Lotus in the short term before the hotter, more expensive (at over £100,000.00) Lotus Esprit gets launched next year.

new model

,

2011 lotus evora s

and 6 more...
Viewed: 485 times