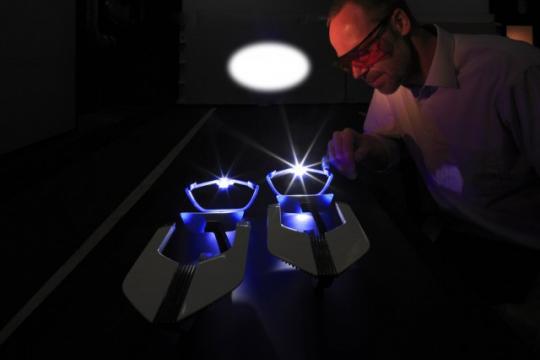 We normally see laser lights used on numerous applications such as barcode scanners, optical disc players, laser lighting displays and etc. What if it was applied onto vehicles as headlights? That would look really nice, especially in the dark. BMW recently announced that they are moving towards advanced lighting technology and they showcased it onto their i8 concept car at the recent 2011 Frankfurt Auto Show.
Now, BMW announced that we will see laser headlights (part of BMW's ConnectedDrive technology) on their cars within two to three years time. BMW said that the technology is ready but they are waiting for the right product to apply it to.
Laser headlight technology is seen as a more advanced and logical upgrade from LED headlights. They are much brighter than LEDs, smaller in size (making it easy to apply at narrow spaces), more power efficient and their light cast further.
The main concern of some people would definitely be whether laser headlights are safe to the human eye. According to BMW, before the laser light is cast onto the road surface, the blue laser light is converted to a pure white light that is benign and pleasant to the eye.
Other than the laser headlight technology, BMW's Dynamic Light Spot (sensors that identify and light up to spot animals and/or pedestrians up ahead) plus the laser headlights could enhance the driver's view especially during low light conditions.
My only gripe is that hopefully these assisting technologies would not make drivers less conscious or lazy of its surroundings since he/she knows that they are being notified of every single thing up ahead.
Photo credit: MotorAuthority

new technology

,

germany

,

bmw

and 6 more...
Viewed: 1,158 times