Jeep has been producing off-road and sports utility vehicles since the 1940s, making it the oldest manufacturer of such vehicles. Right now, it is an automobile marque under the Chrysler group. But before this, do you know that it was once known as the Willys Jeep and how did the name Jeep came about?
Back in 1941, when Willys-Overland started making Jeeps, there was no such thing as "SUVs". The first Jeep wasn't really sold, it was issued. Their main "customers" were the US Army and its Allied Forces.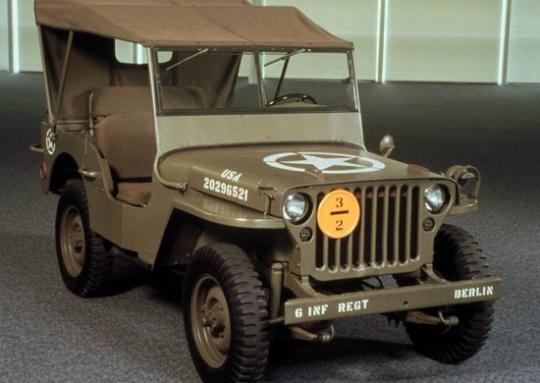 Rewind a little bit back to when just before the Second World War started. In 1938, the US Army conceived a plan to replace their military motorbikes used basically for reconnaissance missions. They wanted a "General Purpose" (take note of this name) vehicle that can suitably replace their existing motorcycles.
Three auto manufacturers answered the US Army's plan with their prototypes. They were American Bantam Car Company, Willys-Overland and Ford. After several prototype proposals from all three companies, Willys-Overland's "Quad" prototype was selected (some features of the other two companies' prototypes were included in the final design). During the above mentioned war, 600,000 Jeeps were built.
The name Jeep is actually the slurring of the acronym "GP" (General Purpose) and when more of the general public get to see the vehicle in the media, due to the war, it became synonymous with it and soon became a universal term.
Willys-Overland marketed the first civilian Jeep shortly after the war. Pictured above is an ad of the civilian Jeep. This model would later become the Jeep Wrangler.
Photo credit: The World's Greatest Sport Utility Vehicles by Giles Chapman

other news

,

america

,

jeep motors

and 8 more...
Viewed: 840 times