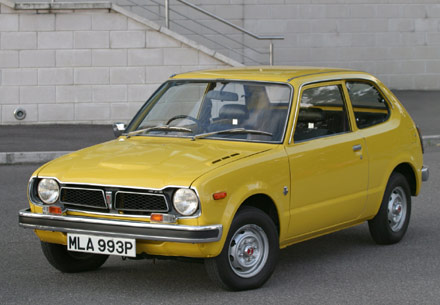 Many of us, including me, know someone who owns or have owned a Honda Civic hatchback. It started from a rather humble and simple beginning and today, it is a favourite among practical car buyers and also among those who seek a budget performance ride.
Coming from a country that makes safe, economical and reliable cars, the Honda Civic has proven that it is efficient and reasonably priced too. From its fuel economical engine to its class leading interior, the Honda Civic has sold millions all over the world and that further proves its popularity. Let us take a look on how this humble and practical car began from a three-door hatchback way back in 1973 to a sporty racing breed today.
When the Civic hatchback was introduced in late 1972 as the following year model, it was pretty small. Lengthwise it is 138.9 inches long, 59.3 inches wide and it weighed around 680kg. Its 1.2 litre engine delivered around 50bhp which was pretty efficient for a car during that time.
The second generation model Honda Civic grew almost 10 inches in length and more than in 2 inches in width. It was offered in several engine displacements.
A Si trim was offered in the mid 1980s for the third generation Civic. To accommodate European styling and a sports-based suspension, it increased by 2 inches in length and 2.3 inches in width. Power output from the 1.5litre engine was around 91bhp.
The next generation Civic hatchback was the beginning of the model's popularity among those in the younger age group especially those who are involved in racing. Lengthwise, the car grew around 7 inches. The top of the range model, the Civic SiR EF9, was offered with a 160bhp B16A engine (VTEC just kicked in, YO'!).
The EG hatchback, in my opinion, is the most popular model in the Honda Civic's hatchback lifetime. Its length was increased by around 2 inches and the width received a 0.6 inch increase. The B16A engine was still offered to the top range model.
In 1996, the hatchback received an increase of 4 inches in length and around 1.2 inches in width. The sixth generation was the first generation to receive a Type-R sub model. It was equipped with a powerful B16B engine, delivering around 185bhp. With a weight of only just above 1000kg, it is a great recipe for speed and agility.
Honda released the EP3 model in 2001 and although its length grew by 1 inch, its width decreased by around half an inch. The Type-R model received a new and larger displacement engine (K20A) and delivered around 212bhp.
The current generation Civic hatchback grew 2.5 inches in length and 1.6 inches in width. It was offered with several engine displacements and the Type-R sub-model is fitted with the K20Z4. The FN hatchback (especially the FN2) is rather popular in the UK as the JDM Civic is not offered there through the dealerships. The American market instead gets the FG2 Civic Si model (2-door coupe).
In its 28 years, the Civic hatchback grew a total of 28.3 inches in length and 11 inches in width, nearly one-fifth of its original length and width. This shows that the car has adapted to ever changing consumer needs and most importantly, it meets today's strict safety standards.
Photo credit: cargurus.com and blogs.automotive.com

other news

,

discussions

,

japan

and 9 more...
Viewed: 3,272 times