One manís meat is another manís poison. Sometimes other people may not like the things that we love. When I first saw pictures of this modified Mercedes SLR on the internet, many people left undesirable comments about how ugly looking this car is. Some even said that it was a modified monstrosity.
As for me, I just didnít like the tone of red used on the car. It would be nicer if it was of a darker shade, in my opinion that is. Anyway, this car was designed by a Swiss designer named Ueli Anliker and he named it the ďRed Gold Dream.Ē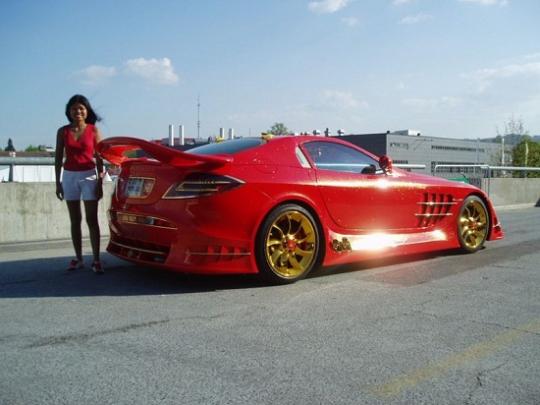 Apparently, this $11 million car is for sale and you may ask; why is it worth so much? Anliker mentioned that he spent around $5.4 million of materials on the car. The wheels are 24 karat gold plated and fixed with ruby encrusted wheel nuts, jewelled indicators, a gold-trimmed interior and steering wheel, ruby covered gear knob, the headlights and the door sills cluster are gold plated and 5kg of gold dust (estimated value of $299,000) mixed in with the paint and applied on the car in 25 layers. Up to 600 pieces of rubies were used.
That is an impressively expensive list of modifications. However, none of it enhances the carís performance and probably adds more weight to the car with all that gold added. Thirty-five craftsmen spent over 30,000 hours in building the car and I doubt they are working for minimum wage. Anliker has plans to upgrade the engine if any buyer wants to.
Whoever buys this car would have to sleep with one eye open at night. Or he/she could install a GPS tracking system or an immobilizer unit. A friend of mine mentioned that if that person could spend $11 million on this car, he/she could hire an armed guard to watch the car for him/her. Anyway, I have a big feeling that this kind of modified car would attract someone from the Middle East.
Photo credit: GT Spirit and Motor Authority

other news

,

modifications

and 9 more...
Viewed: 2,727 times