At the Frankfurt Motor Show last year, Volkswagen introduced to the world its Up model which is a part of Volkswagen Group New Small Family series of models. It was a three-door city car that is suitable for urban driving. A four-door version was rumoured to be released and it is evident now that those rumours were true as Volkswagen have officially released pictures of it.
With its boxy shape and compact profile, the Volkswagen Up will be popular among those who seek a small sized vehicle with a decent powered engine that can sit four passengers. The four-door Up is built on the same three-door Up platform but with two side doors added. Strangely, Volkswagen will market the car as a four door model instead of five.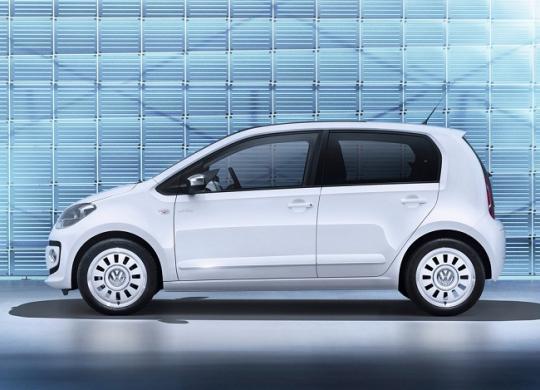 Even though the model has two extra doors, every aspect of it did not change except for the redesigned side profile. This enables buyers of the four-door version to enjoy the boot's continuous glass surface which Volkswagen mentioned have a smart phone appearance. The plus point of the four-door is that it offers passengers better rear accessibility.
Not only is the exterior the same but the interior too. Many components are shared between the two sub-models. That means the dashboard, seats, buttons and etc. will be similar. Even the engine offered will be the same too.
Volkswagen is offering the same optional features in both the two-door and four-door Up. They include systems such as City Emergency Braking. The Up is the first car in its category that can be automatically braked by such a function in a tight situation (over a speed range from 5 to 30 km/h.
Optional items include a portable navigation and infotainment system with touch screen. It contains a navigation system, a hands-free telephone unit, an informational display of various vehicle parameters and a media player. In addition, apps can be used to customise maps+more to personal requirements. With these features, the Up is clearly one of the most advanced

new model

,

other news

,

germany

and 7 more...
Viewed: 1,208 times