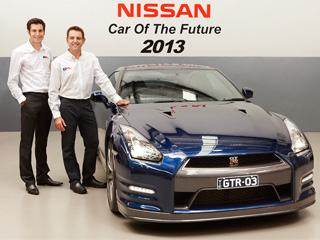 The V8 Supercars Championship is a touring car racing event that takes place in Australia and some of the races are held overseas. Currently, only Ford and Holden participate in the championship. But come 2013, Japanese automaker giant Nissan will take part in the abovementioned event.
Nissan is the first auto manufacturer to be included in the sport under the Cars of the Future plan. The Cars of the Future was conjured up in 2010 to make the racing series more affordable for existing racing teams and also pave way for the inclusion of other manufacturers.
The news of Nissan participating in the racing series was announced on 09 February 2012 in Melbourne and the Japanese automaker will start racing in the series in the 2013 season. The racing team, Kelly Racing has signed with Nissan to become the company's factory team in charge of the cars. They will enter four cars in the championship and are based in Melbourne. Kelly Racing owners, Todd and Rick Kelly will be the drivers for the team and they will also have the full support of Nissan's motorsport division, Nismo.
The news was announced by officials from Nissan Australia and V8 Supercars. According to managing director and CEO of Nissan Australia, Dan Thompson, the company plans to use their presence in the series to strengthen their passenger car credentials in Australia.
On top of this, Thompson also stated that the company believes that, alongside Ford and Holden, they possess the most convincing motorsport DNA and track history in Australia, making a V8SC debut in 2013 an obvious initiative. They are targeting No.1 importer status in Australia and already making progress towards that as one of the country's fastest growing brands and V8 Supercars will boost that momentum.
It has been almost two decades since Nissan last participate in the racing series and that was in 1992. Gibson Motorsport was the racing team back then and they used a R32 GTR which was driven by Mark Skaife and Jim Richards. Mark Skaife was the person who came up with the Cars of the Future plan. Details of the car and engine that Nissan is going to use will be announced at a later date.
Other than the V8 Supercars series, Nissan also competes in other touring race series such as the FIA GT1 World Championship and the Japanese Super GT Championship. This latest inclusion will give Nissan a better foothold in the touring car racing events throughout the world.
Photo credit: V8 Supercars official website

motorsports

,

other news

,

japan

and 12 more...
Viewed: 489 times