I recently had a go in the 2012 Hyundai Elantra 1.8 over in Petaling Jaya, Malaysia recently. This is a model that isn't being sold over in Singapore due to the COE price structure but it does tell me a whole lot of things about this very established Korean brand and how far the Koreans have moved forward in terms of car design and technology.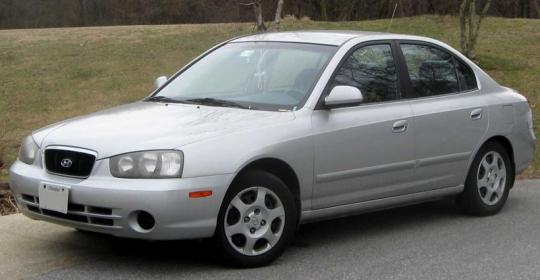 About ten years ago I would have tried my very best not to want to drive one but I suppose times have changed as this new Elantra is actually quite accomplished.
The last Elantra I drove was the early to mid-2000s third generation model pictured above. This car was pretty good if you wanted to be invisible. It did what it's supposed to do and nothing else. The later fourth generation one tried to be a little bit more funky with some coke bottle styling but it still looked like a car for Mr. & Mrs Boring As Hell. Not any more as this current model looks and feels good.
I think this car looks like what the new Honda Civic should have been like instead of what Honda is giving us. The Hyundai Elantra looks better than the Civic which has basically morphed from a young and vibrant car into something a previous Hyundai Elantra buyer would buy. The world has basically turned a little topsy turvy these days.
Getting in the 1.8 Elantra is pretty much like getting in the 1.6 version of it (You can read about the 1.6 model
here
). The only difference is the addition of a sunroof and some red stitching on the seats. The sunroof in my opinion takes a bit of headroom but it still feels like it has more of that than the larger Kia Optima 5 which I sat in recently. This is good for a small family sedan even with that rakish roofline. I however felt that the seats (which are electrically adjustable) could have been set a little lower as I still felt perched a little higher than I would have liked. Aside from that the fit and finish of the interior is good for its class. It isn't as accomplished as a Volkswagen Golf TSI, but it is better than what was offered before.
Now when it came to driving the darn thing the 1.8 Elantra isn't something that is as special as it looks. It may have 130hp and 178Nm torque but the normally aspirated 4 cylinder engine needs revs to move even if its coupled to a very smooth shifting 6 speed automatic (without any pedal shifters and only a '+' and '-' to use on the shifter).
The problem (which is similar to the 1.6) is that the engine gets pretty vocal at high revs. The engine isn't some sweet sounding Honda VTEC or a Subaru Boxer, hence the complaint I am making here as it makes all the growls and noises but there isn't much speed to the equation. I suppose not much is lost if one bought the 1.6liter version over this model.
The ride on 17inch tyres seemed a little busy but the handling isn't as good as its sporty looks. It it isn't that much fun to chuck around as the steering lacks feel and seems to be low geared. You may need to work on the steering wheel more to place the car where you want it to be. The slippery Nappa leather seats aren't as supportive and it could do with more support in the thigh area.
Throw the car into a corner or make last minute lane changes and you may find yourself making more steering inputs than you thought necessary. And while doing that you have to be holding on to the steering wheel hard as the seats aren't that good in supporting you while you're trying to be a weekend warrior.
The Elantra 1.8 does not seem to enjoy getting flung into corners as much as, say a FD model Honda Civic 1.8 or a Mitsubishi Lancer 2.0GT. It is competent, with traction control and all that, but it isn't something that could be called fun.
I have to conclude with the fact that the Koreans have made great progress (if you intend to use this car as transport and not as a sporty set of wheels). This seems to have started with Kia coming out with the Forte and it hasn't faltered. Although I have to complain (albeit a small tiny complaint) that the Hyundai Elantra's glovebox is small and if you open it you may hit your passenger's knees or that your passenger's knees may get in the way of it opening fully.
Not many Japanese or European cars have these sort of quibbles, but it does tell you that the Koreans still have only a tiny bit of catching up to do for now.

new model

,

malaysia

,

hyundai

and 8 more...
Viewed: 2,466 times