Many should have already heard of Lamborghini's plans to release an SUV known as the Urus. Lamborghini
teased us
with a silhouette of the car recently and now they have
officially launched
the SUV at the ongoing Beijing Motor Show.
Photos of the Lamborghini Urus were leaked onto the internet, a couple of days back, and we are glad to announce the leaked shots are similar to the official press release. Confirming earlier rumours, the Urus has a similar shape to the BMW X6; coupe like in appearance with a sloping roof and a rising back end.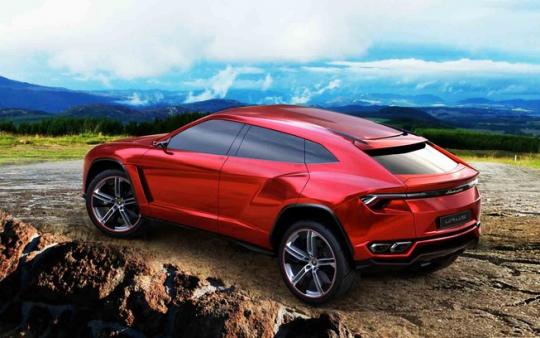 The design styling is a little tamer than that of the supposedly rendered images of the car which appeared a couple of months back in an Italian auto magazine. The previous rendered images were more Aventador-ish while this time; the SUV bears a closer resemblance to the Estoque Concept car. It is clear that the Urus is inspired much by it.
The Urus is said to be around the size of the Audi Q7 and it rides on massive 24 inch wheels which are made of carbon fibre. Those huge tyres and wheels sit on flared wheel arches that highlight the car's aggressive stance. The Lamborghini Urus sits a little high off the ground but it is definitely not an off-roader like the company's previous LM002 SUV.
The interior features high amounts of carbon fibre and the seats are adopted from the Sesto Elemento Concept. The centre console, extends all the way back to the rear seats, features two LCD monitors (one at the front, just below the dashboard and another in between the rear seats. These monitors could be intended for multimedia interaction.
It the Urus will use Volkswagen's new MLB platform architecture which the next generation Audi Q7 will use as well and, in short-wheel base, the Volkswagen Touareg and Porsche Cayenne. Made partially out of carbon fibre and aluminium, the platform will help the Urus tip the scale at less than 1.9 tonnes.
Powertrain wise, the Lamborghini Urus might feature a detuned 5.2-litre V10 engine from the Gallardo. A hybrid version could be in the works as well with an electric motor and a lithium-ion battery pack. The front mounted engine is expected to produce 600hp.
The best question to ask right now is; when will the Lamborghini Urus be launched? In a recent interview with a German newspaper, Lamborghini's CEO Stephan Winkelmann mentioned that the company's third model will not be launched before 2017.
In the meantime, we can only gaze at these photos.

new model

,

other news

,

italy

and 8 more...
Viewed: 1,003 times