Brabus or ABT Sportsline tuners of BMW, AC Schnitzer have laid their hands on the new BMW 6-series Gran Coupe, BMW's answer to the four-door coupe.
As expected from an aftermarket tuner, AC Schnitzer have given a power boost to the 6-series GC from the stock 313bhp to 360bhp for the 640d, and from 320bhp to 360bhp in the 640i. AC Schnitzer has also fitted twin sports rear silencer with chromed "Sports Trim" tailpipes that offer the tuned car a powerful sound track.
Braking is also improved with the installation of high performance AC Schnitzer 8-piston brake systems for the front axle, made up of an 8-piston fixed calliper, 8-piece set of brake pads and calliper holders. Also installed is the AC Schnitzer suspension spring kit that boosts the driving dynamics. The coupe gets a choice of wheels in either 19" or 20" in various styles.
The AC Schnitzer designed bodywork components like the front spoiler and grille covered in chrome, among others gives an added sports appeal, which continues to the interior with the "Evo" sports airbag steering wheel. With top class equipment featured on the car aluminium highlights provides exclusivity to the car's cabin.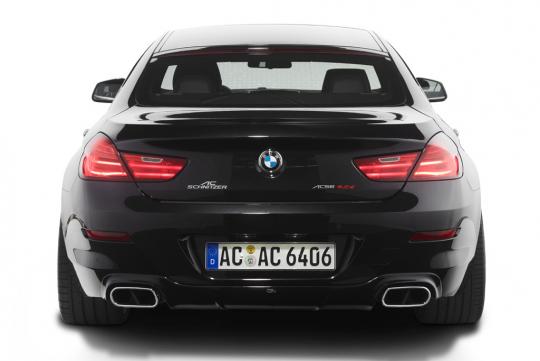 ac schnitzer

,

bmw

and 9 more...
Viewed: 1,288 times