Now, this is not a screenshot taken from a science fiction movie. This is reality in the making. General Motors is hard at work developing its next-generation heads-up technology, and we are given a preview of what sort of new features to expect in the coming years.
This new concept, developed in partnership with Carnegie Mellon and the University of Southern California, uses an augmented reality system to display head-up information across the entire windshield. When you're watching a football game and images appear on the screen to indicate lines on the playing field, that's augmented reality. GM feels that this technology will be a good way to expand upon current heads-up systems without being too distracting for drivers.
GM's new concept uses an array of vehicle sensors and cameras to collect data and project images directly onto the surface of the windshield. For example, if you're driving in dark foggy conditions, this technology can highlight the lines of the road. By pairing these functions with existing night vision technology, the heads-up system can identify and highlight animals or people along the side of the road, improving safety for the driver and other road users.
At the current stage of development, GM still need to figure out how to piggyback on sensors and cameras already used in automotive applications, as well as how to keep production cost low. GM indicates that if things go well, we could see a complete version of this system as early as 2016.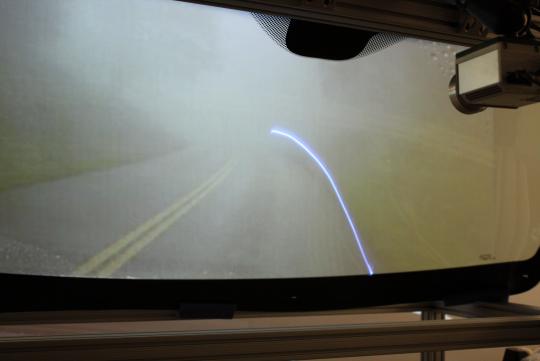 GM

,

Head up Display

and 1 more...
Viewed: 409 times