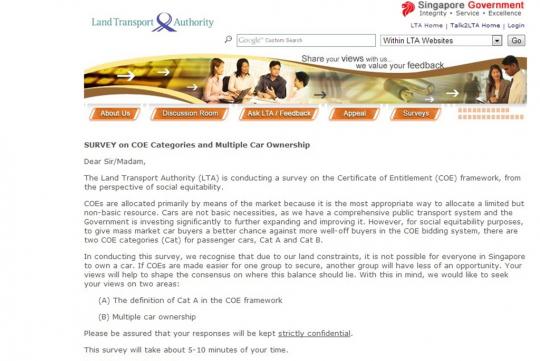 The Land Transport Authority (LTA) has setup a website to seek feedback from the general public on how COE and car ownership schemes should be tweaked. The government is trying to inject some form of social equitability in car ownership in our land-scarce island.
The feedback will help the government to better delineate CAT A from Cat B, so that buyers of mass market models do not have to compete directly with luxury car buyers.
However, luxury brands' penetration into CAT A is only part of the equation in contributing to the astronomical rise in COE price in the 'mass market' category. The reduction in supply of COE and ever increasing population numbers would ensure that COE prices would remain sky high.
If you are interested to air your views, do visit the website –
http://talk2lta.lta.gov.sg/coe

discussions

,

other news

and 8 more...
Viewed: 1,696 times