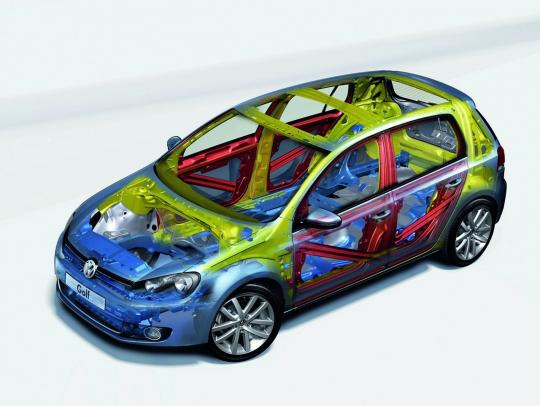 Volkswagen proclaimed that millions of couples have made love in a Golf. Now, the words "playing it safe" in the subject title has no relationship to that acitivty inside the Golf. Rather, they refer to the fact that the VW hatchback has been named the safest car of 2009 by Euro NCAP Institute in Brussels.
The Volkswagen Golf was tested in all four catergories: Occupant protection of adults, protection of children, pedestrian protection and supporting safety and driver assistance systems. The Volkswagen Golf attained the coveted five star rating with the top score of 103 points, earning the title of "Safest Car of 2009". Thirty three cars were tested last year under stricter and more extensive EuroNCAP crash testing procedure. The threshold for a car to achieve five stars rises from 75% to 80% in adult occupant protection, and from 70% to 75% for child occupant protection. Cars will also have to score 40%, rather than 25% for pedestrian protection.
Two hybrid-engined models, the Honda Insight and Toyota Prius, came second and third. The Suzuki Alto and Toyota Urban Crusier ranked at the bottom among the 33 cars tested in 2009, receiving just three stars. The results of the Euro NCAP top performers are shown in the table below:
*Hmm...I wonder if the Prius should be re-rated after the brake design fiasco ?

VW

,

Golf

,

Euro NCAP,
Viewed: 612 times