This is the second of the two cars displayed at the '2 days of Nostalgia' event in Japan. This time we bring you the SR311 Nissan (or was it Datsun in those days) Fairlady modified by Rocky Auto(don't ask, but they tune vintage Nissans). This is the 2nd generation Fairlady and it was first manufactured in 1965. The car first came with a 1595cc engine SP311 type called the "1600 Fair Lady" and this evolved into the 1967 version 1982cc four-cylinder series SOHC which appeared with a transmission 5-speed engine and it was called the SR311 Type 2000. Lets just call it 'the Lady' in this article for simplicity's sake.
The original 2.0 gave 145ps and 180Nm of torque. A 910kg body means that 0-400m happens in15.4 seconds and a top speed 205km / h . The Lady was the first production Japanese car to exceed 200km/h.
However, the Rocky Auto is a modified version of this Lady. A Nissan Silvia Automatic from the 1990s had donated its drivetrain for this Lady. The 140-150bhp SR20 (Hence SR311 instead of SN311) 2.0 liter 4 cylinder engine had replaced the original (non-turbo version) for modern reliability and maintenance as well as drivability, the automatic transmission replaced the original transmission and the car is also equipped with air conditioning. The car is also fitted with power assisted steering as according to Rocky Auto, the original steering rack is ridiculously heavy.
Rocky Auto will charge ¥ 498 million for a Lady to be built to this specification. But the engine runs a catalytic converter and is more environmentally friendly than the original and the maintenance costs of the newer engine is lower than the original too. Like the Mazda Cosmo before this, the modification is reversible if the owner wants to do so.
There will be classic car fans who will be disappointed by this car's lack of originality but this could be one way of saving the environment and making the classic car more practical to use (with power steering, automatic transmission and a newer more tractable engine). I actually think old cars should be kept in one form or another, and if modified to current specs, should be done tastefully. This old Datsun is one of them.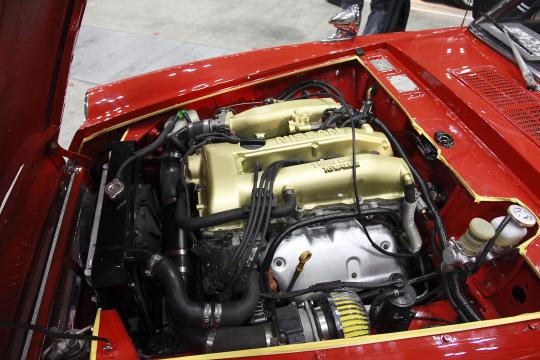 Motor Show

,

Classic Car Show

and 5 more...
Viewed: 1,159 times