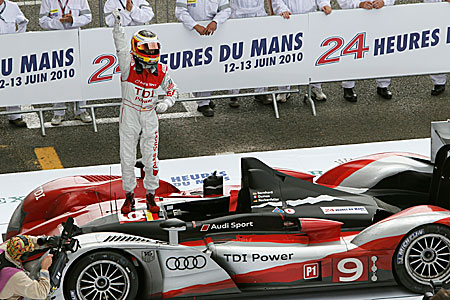 For those Audi fans out there I am pleased to report that Audi has achieved their third 1-2-3 all out win at Le Mans within this last ten year period. The 2010 Le Mans 24hours endurance race held over the last weekend was one that basically pitted Audi against Peugeot for the LMP1 category and was actually led by Peugeot. But Le Mans being an endurance race, one by one the competitors including the last surviving Peugeot 908 HDi ('D' standing for diesel) ground to a halt allowing for three Audi R15s (all diesels too) to win big time.
As the saying goes, 'In order to win, one must first finish to finish first'. And so it goes as in was noted during practice and in qualifying, the Peugeot oil burners were fast. This was admitted by one Allan McNish, who was part of the Audi team that came third. Mr. McNish isn't some Scottish Kilt wearing nobody, as he was a Formula 1 driver with Toyota, later test driving for Renault F1 and has also won the Le Mans twice before.
Reliability is the key, as speed isn't the key in endurance racing. Peugeot's domination meant nothing as they couldn't finish. This was also the same in the GT2 category where that fine looking M3 GT2 didn't manage to finish too.
In LMP2, Danny Watts led the Strakka Racing Acura ARX-01 (manufactured b Honda Performance Development Inc. in partnership with Wirth Research) to class honours, while GT1 and GT2 were won by the Larbre Competition (Saleen) and Team Felbermayr (Porsche) teams respectively.
Final positions
LMP1 and Overall
1st Audi #9 (Rockenfeller/Bernhard/Dumas) 329 laps
2nd Audi #8 (Lotterer/Fässler/Treluyer)
3rd Peugeot #1 (Wurz/Gene/Davidson)
LMP2
1st Strakka #42 (Leventis/Watts/Kane)
2nd OAK Racing #35 (Lahaye/Moreau/Charouz)
3rd RML #25 (Newton/Erdos/Wallace)
LMGT1
1st Saleen #50 (Berville/Canal/Gardel)
2nd Corvette #72 (Gregoire/Policand/Hart)
3rd Aston Martin DBR9 #52 (Enge/Nygaard/Kox)
LMGT2
1st Porsche #77 (Lieb/Lietz/Henzler)
2nd Ferrari #89 (Farnbacher/Simonsen/Keen)
3rd Porsche #97 (Westbrook/Holzer/Scheider)
photos:autoblog

Audi

,

Motorsport

,

Le Mans

and 2 more...
Viewed: 754 times