The sales of the new BMW 5 Series seem to be pretty strong over here as I had observed a handful of them plying the streets of Singapore and also in Malaysia. I have even managed to catch a glimpse of the really weird looking semi pointless 5 Grand Turismo being driven around. And as with every new launch motoring enthusiasts would want to know when will the full monty M series models be launched. So to satisfy those hardcore M fans, and also those who are realists, who are those that dream of owning a M5 but can afford a 525, 530 or that sort, BMW has officially launched their M-Sport aero detailing for the 5 series.
The first peek of the official M-Sport body addenda for the BMW 5 series was recently leaked by the BMW enthusiasts at 5Post Forum. The pictures (meant for a UK sales brochure or press release) clearly show a new front bumper that has a little of the M-Sport 3 series front bumper air inlets, side skirts and a rear bumper valance. There is also a discreet rear bootlid spoiler.
As for handling, the M-Sport 5 series sits lower due to the M-Sport suspension. The suspension is coupled with the 'standard' M-Sport 18inch double spoke rims which will come with a M-Sport specified 5 series. There is a 19inch option rims with a thinner double spoke design that can be specced at a price. If you noticed from the pictures, 19inches look small on this new 5 series. And that's pretty shocking in a way.
As for the interior, we can tell that there is a smaller, maybe fatter three spoke steering wheel with the 'M' badging on it and a pair of sportier, body hugging front seats. The rest of the interior looks pretty much like any 2010-2011 5 series. I do not even see any alloy pedal covers that would make this interior even better looking. But then again these are leaked shots, so BMW may spring out some changes or some additions soon.
So, there you have it. The BMW M-Sport 5series to please those who want an M5, but cannot afford one as yet so they can get some of the looks (and handling) for their normal 5 series. Well, with other commitments, sometimes the best motoring dreams have to be put on hold and this is a way to realize a part of those dreams.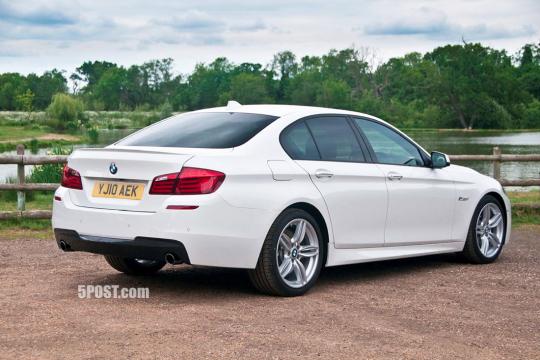 BMW

,

5 Series

,

5 series GT

and 2 more...
Viewed: 1,928 times