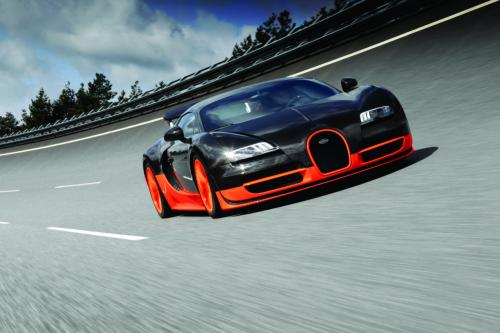 Bugatti has unveiled the Veyron 16.4 Super Sport - its promised 1,200 horsepower version of the Veyron model, setting a new land speed record of over 430 km/h.
At the Volkswagen Group's Ehra-Lessien track near Wolfsburg, Germany, the Veyron Super Sport set an average top speed rating of 431.072km/h. Piloted by Bugatti test driver Pierre Henri Raphanel, with German inspection officials (TÜV) keeping watch, the car topped out once at 428 km/h and second time at 434km/h. A representative of the Guinness Book of Records was on hand to witness the new world record.
The 1,200-hp and 1,500Nm of torque of the Super Sport represents a 200hp and 250Nm increase over the standard Veyron. Bugatti engineers achieved the power upgrade by using four enlarged turbochargers on the 8.0 liter, 16-cylinder engine along with larger intercoolers. The Veyron Super Sport also gets a chassis tuning with a higher main-spring travel, strengthened stabilizers and racing-grade shock absorbers.
The street prowling version of the Veyron Super Sport, though, will be electronically limited to 415 km/h. The Bugatti Veyron 16.4 Super Sport will make its first public appearance at the Pebble Beach Concours d'Elegance in California in August.

bugatti

,

veyron

and 3 more...
Viewed: 1,045 times