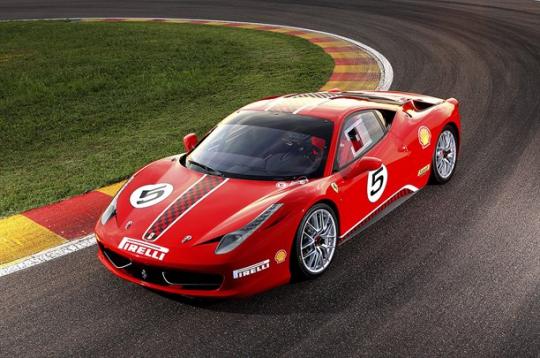 The Ferrari Challenge Trofeo Pirelli is a Ferrari only racing series comprising of F430s, 360s, F355s and 348s. It will now have another Ferrari added to this list; the 458 Challenge. This new race car was revealed during the annual dealer meeting held recently and will join the other Ferraris on the grid in 2011. The photograph above is the one and only official picture released by Ferrari at the moment.
The 458 Challenge race car will be equipped with the same engine, producing the same amount of power (562bhp at 9,000rpm) as the road going version. But we all know that horsepower alone does not make a race car. The Challenge will be faster from revised gear ratios and a recalibrated 458 Italia flappy pedal gearbox, a lighter (thinner body panels, a more stripped out with greater use of carbon fiber and lexan replacing the glass) chassis and the usual uprated suspension setup.
The suspension will have stiffer springs (as well as a drop of 30mm in ride height), single rate shock absorbers, 19inch lightweight racing alloy wheels and wider Pirelli slick tires. Brakes are massive CCM2 Brembos as used in the track only 599XX and it will also get the E-Diff electronic differential and F1-Trac traction control systems which were never used in Challenge versions of the F430 even though road going versions used them.
All of the modifications enable the 458 Challenge to corner faster than the road going car which has similar power output. It will lap Ferrari's Fioriano test circuit in 1minute 16.5seconds. Two whole seconds faster than the F430 Challenge. The car is measured to have generated a dizzying 1.6g of cornering force.
Somehow the Ferrari Challenge Trofeo Pirelli may be even more lopsided with the inclusion of the 458 Challenge. In fact when the 360 Challenge car was raced in the series, Ferrari allowed the earlier 348s and F355 to run GT rear wings which increased aerodynamic efficiency, particularly rear downforce, in the earlier Ferraris. I wonder whether more changes would be allowed for the earlier cars as the 458 Challenge seems like a technological tour-de-force compared to the cars mentioned above.

Ferrari
and 4 more...
Viewed: 426 times