In about 3 months' time from now, the world's first Ferrari theme park will open its doors and welcome the public at Abu Dhabi's Yas Island on October 28 2010.
The Ferrari World Abu Dhabi is located next to the futuristic Yas Marina circuit that hosted Abu Dhabi's first Grand Prix race in November 2009, and is housed under a massive triangular red roof stretching over 200,000 square meters.
The theme park's authorities released details on all 20 attractions and rides that include the record-breaking Formula Rossa roller coaster, which is capable of reaching speeds of up to 240km/h, and the G-Force tower ride that will shoot visitors 62 meters in the air before plummeting back to the ground. For kids there will also be the Junior GT, where children will be taught to race on a reduced-scale F430 GT Spiders on a track. There will also be a Junior Grand Prix race, with scaled-down versions of Ferrari F1 cars.
Elsewhere, the Fiorano GT Challenge rollercoaster takes visitors for a quick spin in a F430 Spyder replica while Speed of Magic leads guests on a 4-D adventure through deep green jungles to icy caves and narrow valleys.
This sounds like a great deal of fun as compared to our RWS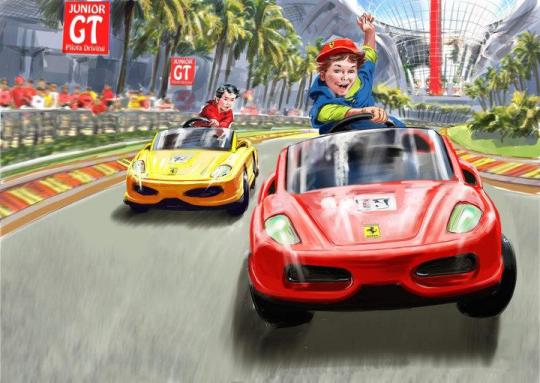 ferrari world

,

theme park

and 2 more...
Viewed: 477 times