Sometime last week Peugeot launched their new weird looking mini SUV called the 3008 in Singapore.
It has a chassis that is based on the 308. It also has a 150bhp 1.6liter turbocharged engine (with a more advanced 6 speed gearbox) from the 308 but with the looks of a hippopotamus instead of the shapely 308. There, now lets move on to some real good news......
…...IF you're in Japan and you're into the Nissan GT-R that is. This is because there will be a Japanese market only Track Club Edition GT-R. This is a GT-R that is put together by Nissan, NISMO (Nissan's motorsport arm), NOVA Engineering and Nordring tuning. The car will sell for ¥10,479,000 and you have to also join the Prestige GT-R Club which requires the interested party to pay for an additional membership fee of ¥2 million and another ¥1 million per year in annual fees. Basically the GT-R Track Club Ed will cost a cool ¥13,479,000 for the car and at least a year's worth of running it.
So you pay a bomb to get this special edition. It allows you to race the car in a future one make series and also get upgrades as well as the latest R&D made by the companies mentioned above. This is a cheaper Ferrari-like 599XX or FXX programme as you get the fastest GT-R from Nissan/NISMO and you get to race it, track it and get on going technical support for it. But unlike the Ferrari programme, you get to take it home. With the Ferrari, they take it back to the factory even though you've already paid a whole lot of money.
The GT-R's twin-turbo 3.8-liter V6 engine has about 485bhp and 588Nm of torque, which seems like there is no difference from the cheaper, more normal GT-R. But there is new programming of the ECU, traction control and ABS systems, special two-way adjustable Bilstein dampers and new upper front links. For the exterior, there is a front lip spoiler and 20-inch Rays Forged Aluminum wheels. For the interior, a four-point harness with six-point retention on a Bride Gardis III seat, a Recaro or any sports seat depending on driver's preference, a NISMO data log kit and an fire extinguishing system. You do not seem to get any carpets or mats though.
Applications for this special GT-R are being accepted until September 20 of 2010. I wonder how many of this will in the end be brought in by grey importers in Singapore and in Malaysia, as is usually the case with cars like the GT-R.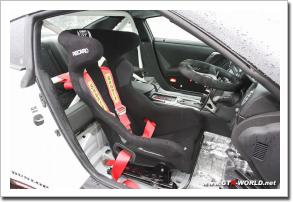 source:gtr-world

Peugeot

,

3008

,

Nissan

,

GT-R

and 1 more...
Viewed: 793 times