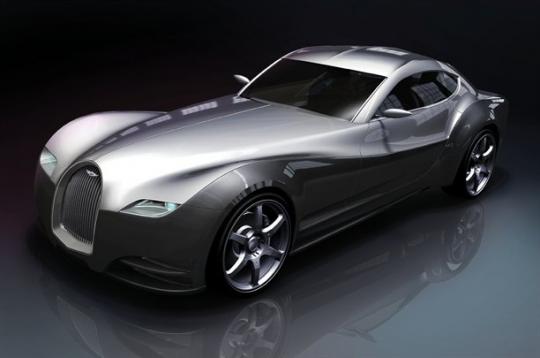 Another British marque has chosen the Pebble Beach Concours d'Elegance to unveil its latest model.
This time its Morgan, the company that is famed for using traditional wood framed chassis over aluminium body panels in cars like the Plus 8 and the plus 4. In recent times it has become quite a dream car for many with the really beautiful Aeromax and Aeromax Supersports coupes. Morgan has now unveiled another stunner (especially in that two tone colour scheme) – the Morgan Eva GT.
The Eva GT is a 4 seater luxury grand tourer of the very traditional kind. According to the press release the Eva GT will offer 4 seat accommodation (albeit tight for adults and just right for children at the rear) as well as the all important luggage space wrapped in an aluminium body and chassis like the one they used in the Aeromax series of sports cars.
The car is supposedly meant for small young families. Those with small children below the age of 12 may apply. It is the most practical of all the Morgans to date and is longer by half a meter than the 4.2meter Aeromax. The 1250kg sports car will come with a BMW 3.0liter direct injection twin turbo making 302bhp and is Euro 6 emissions regulation compatible (It also makes 40mpg – pretty good for a car of this caliber). It will do 273km/h and 0-100 takes 4.5 seconds, enough to let this retro looking sports car to keep up with other exotics.
The Eva GT will come with modern equipment, not like a car from the 1930s. It will have ABS, ESC, Satnav, xenon headlights and airbags. You can either select a 6 speed manual if you're interested to change the gears yourself or a 6 speed ZF automatic if you're slightly lazy.
This stunning car will be on sale in the UK in 2012 and is to be priced below the Aeromax series of cars, which comes with a 4.8liter V8. If you want one, the closest Morgan dealerships are in Japan and Australia. Grey importers maybe? Deposits are already being taken for delivery mid-2012.

Morgan

,

Eva GT

,

Pebble beach,
Viewed: 358 times