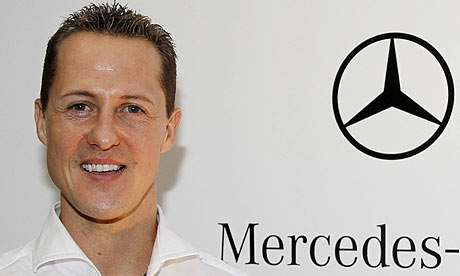 The legendary man is back! Michael Schumacher will join Lewis Hamilton, Fernando Alonso and Jenson Button on the starting grid in next season's Formula One World Championship. The only difference this time is that he won't be piloting for Ferarri, but for Mercedes GP instead, what used to be Brawn GP.
And that is the big question. Why did he go to Mercedes after so many years with the Stallion from Maranello? He was one of their chief advisors and placed in such a position with high regard and now he's jumped ship to Mercedes, where his old mate Ross Brawn resides. Could it be his loyalties remain with Ross Brawn for engineering such an amazing car for him season after season that he was willing to make the switch?
The next thing that most people will want to see is if Schumi can actually still win. For starters, at least 70% of his compatriots expect him to win the Formula One World Championship next year. And who can argue with them? He has won 7 titles so far and is an all time great. But he will be facing stiff competition from the younger generation such as Lewis Hamilton who have often talked about wanting to challenge the champion, "Well, now they have a chance, so they'd better use it" says Michael.
The 40-year-old German will be paid £6.2m to drive for Mercedes in 2010, reuniting with engineering genius Ross Brawn who led Michael to win the driver's World Championship title with Benetton in 1994 and 1995, and with Ferarri from 2000-2004.
The best part of this all is that finally, we Singaporeans will manage to catch a glimpse of the greatest driving legend of all time on our streets when the F1 season swings over to Singapore next year. And I absolutely cannot wait for that.
I guess the only way for us to see how well Schumi drives is to wait and see...

schumacher

,

f1

,

mercedes gp

and 2 more...
Viewed: 532 times