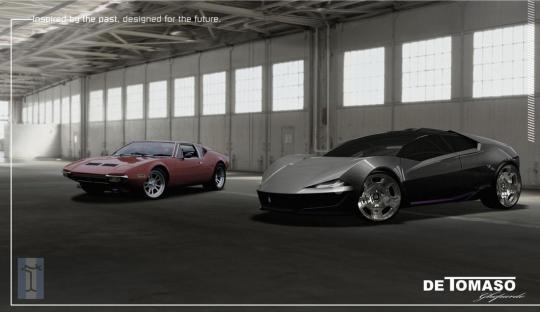 Remember De Tomaso?
This Italian car manufacturer was famous for building the Mangusta and the Pantera. De Tomaso was founded by Argentine-born Alejandro de Tomaso (1928–2003) in 1959. The company went bankrupt in 2004 but new cars were still being sold till around 2005 when stocks of their last car, the Guara, were sold out. The company was bought by former Fiat executive, Gian Mario Rossignolo, in 2009 and a new business plan for the company calls for producing three models for a total of 8,000 vehicles was recently highlighted. In light of this recent news, Danish designer Designer Frederik Tjellsen has designed and put forward his interpretation of what a model in that lineup could look like. What interests me however is not the business plan, but the way this unique 4 door (yes, 4 doors) supersaloon arranges its rear doors.
It is a design proposal by a person that wants a job with the new De Tomaso, but what a unique design it is. It changes our perspective on how a 4 door saloon's rear doors should look like. The front doors are conventional items on what is a very shapely coupe like body. The rears are gull wing doors that actually cover the area from the B-pillar right to the end of the car. A new take on how rear doors should function and look like. It looks fabulously cool indeed.
It does have a slightly odd name though. Frederik Tjellsen calls it the Ghepardo, or Cheetah in Italian. The car does have a lot of classic De Tomaso design cues, from the short rear over hang to the way the front wheel sits under the front arches. Right now this design concept is still in scale model size, about a quarter scale from life sized. The press graphics are nice though, showing that the Ghepardo looks very much like a modernized classic De Tomaso Pantera..
Imagine this car as the new Pantera, with a traditional Ford V8 for its heart like Panteras of old. An Italian coupe with a NASCAR style rumble. It was fantastic, and that Ford V8 very low tech and low maintenance. And because of this, my friends and I still see the occasional Pantera prowling the streets of Kuala Lumpur. I do hope the new owner of De Tomaso see the potential in those rear doors and the overall look of the car and produce this as a new De Tomaso. It'll be fabulous.

De Tomaso

,

Ghepardo

,

Pantera

and 2 more...
Viewed: 955 times