Red Devil is the name German tuning firm Wimmer RS chose for its latest take on the Volkswagen Golf R. The word 'Red' is selected because of the color for the car. The word 'Devil' represents the sinister punch under the hood of the Golf R.
In stock form, the all-wheel drive Golf R rolls out of VW's factory with a 2.0-liter TFSI producing 270-hp and 350Nm of maximum torque. After Wimmer RS's engineers perform their magic, those numbers increased to a whopping 478-hp and 610Nm. The extra power comes from a variety of modifications including but not limited to changes made to the turbocharger, ECU, air intake, injection nozzles and exhaust system.
According to the tuning house, the upgraded Golf R can reach an electronically limited top speed of 291 km/h. Additional performance enhancements include a coil-over suspension set and more potent braking system. The German tuner did not release info on pricing.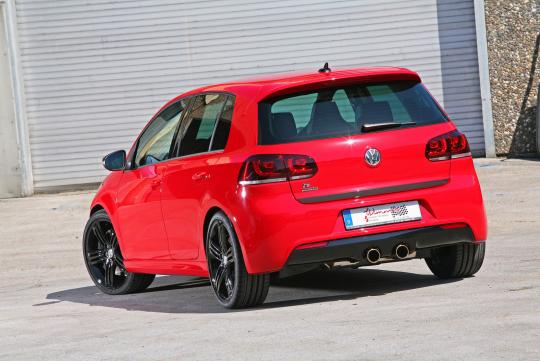 golf r

,

tuned golf r

,

wimmer rs

and 2 more...
Viewed: 1,754 times