Subaru has finally brought out a STI (Subaru Tecnica International) tuned Forester for its Japan Domestic Market (JDM) with the Forester tS.
This is the second tS model after the
Legacy tS
which Subaru debuted last June. The tS moniker basically stands for Tuned By STi and is basically a Subaru with some STi performance bits, unlike the full monty Impreza STi which is basically designed from the outset by Subaru's tuning arm, STi.
The Forester tS, will be equipped with the 2.5liter flat-four 'Boxer' engine that is rated at 263PS and pushes out 347Nm of torque. It also comes with STi specific suspension, which has STi lower arms at the front and strengthening bars for the rear, different spring rates, STi tuned absorbers and different (most likely thicker) anti-roll bars and suspension strut bar for the front top mounts.
The car has keyless go, a red started button, STi badging plastered on the air-cond vents and steering wheel as well as some nice scuff plates. The leather seats have 'STi' embossed on them and if that isn't enough, the optitron type meter cluster also has the words 'STi' on them.
The exterior sports a slightly more aggressive grille and a rear bumper with some diffuser-like rear valance. The rims are 12spoke grey colored alloys on what still looks like proper high profile SUV type tires. Note that this new STi tuned Forester isn't like the earlier 2nd Generation SG series JDM Forester STi which comes with low profile tires as well as a lowered suspension. This Forester tS only comes with 15mm of lowering.
I suppose when Subaru made this SH series Frosty (as they are nicknamed) it decided for it to enter the mainstream SUV market. It wasn't like a half-breed, extra tall station wagon like the Frosties of old. So even this STi tuned version gets a proper SUV type suspension and wheels. Not that I am complaining, as if I wanted a sporty Scooby, I'd get the Impreza.
Anyway, I am babbling here. This Forester tS is a JDM market 300 unit limited run vehicle. I hope that some grey importers will bring a few of them into our region soon.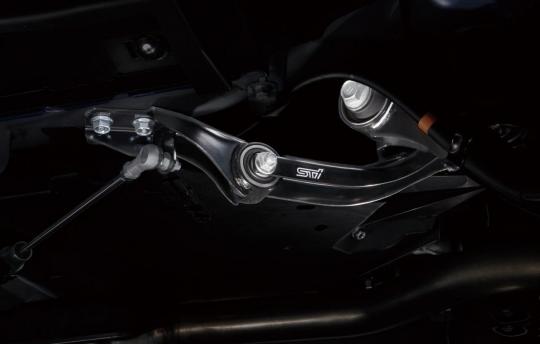 [/center]

subaru

,

flat four

,

boxer

and 4 more...
Viewed: 1,921 times