Honda Motor Company has announced plans to unveil their Small Car Concept at the Delhi Auto Expo in India from 5 Jan to 11 2010. The whole idea of this particular concept car is to create a small and affordable Honda especially for India and other developing countries.
Honda aren't the only Japanese car maker to attempt a break through in the 'small and affordable car' segment. Toyota has also scheduled to release the "Entry Family Car". And as you can probably tell, the name itself speaks volumes about the simplicity of the car that they will be producing for the emerging countries.
This new phenomenon is catching on with car makers these days, making their cars smaller, more efficient and greener. I wonder if cars these days, especially in this segment, are getting more and more boring. They look tiny, don't have much space, and claim to be very kind to the environment. But the fact of the matter is, if you stuff the car full with the average sized adult, the car is not going to be very light. No matter what kind of new age plastic or fabric that is dumped into the car, its still going to be underpowered and therefore you're foot will need to be buried in the carpet for you to experience any sign of decent acceleration. I think what they should do is just make more powerful engines with less pollutants. Car-makers please just meddle with the engines, I'd rather have my space and legroom back.
Other than the Small Concept, Honda will also unveil the CR-Z concept 2009 which has already had its fair share of exposure to the limelight during the Tokyo Motor Show in 2009. Honda's humanoid robot ASIMO will also be showing off his moves at the Delhi Auto Expo. With the booth concept of "Inspired by Dynamism - Truly Honda by Nature" Honda will express its tireless challenge for the development of advanced technologies and environmental technologies for the next generation.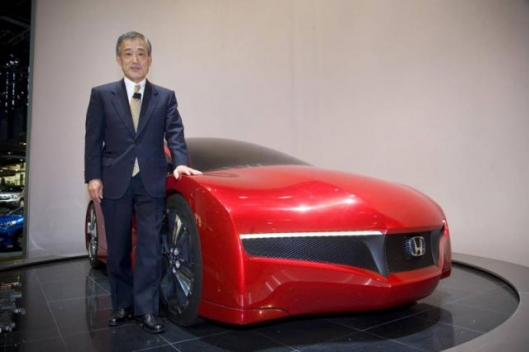 With that said, this 'Small Car' thing is still remarkably hideous, though its not really surprising when you look at the man behind it.

honda

,

small cars

,

city cars
Viewed: 501 times