It hit me one of these days while reading a car magazine, there's always advertisments of watches and sometimes even a section devoted to a review on watches. Some of them may be made specially after a certain marque or model, while others are just featured on the glossy pages of automotive indulgence. So that brought me to question, why?
More often than not you'd see huge watch company name slap an enormous banner on an F1 car or catch a glimpse of an F1 driver's face on a Tag Heuer ad. Timepieces are almost always related to cars in some sort of historical manner. Cars and timepieces have rich heritage, going back to the years before even our grandparents were born. Both have precision engineering involved and both can be extremely exclusive. Let me give you one example. The Maserati MC 12 is an extremely rare car to behold, what more to own. Now Audemars Piguet has been around since 1875 and that's even longer than Maserati has ever survived, but back to my point. They have created a timepiece after the MC12. The Maserati is hugely expensive and so is the watch, its 250, 000 Euros! For a watch! You could buy a house for that money... And of course like the Maserati, its exclusive. So both commodities are expensive, rare and extremely technical to the point that they inspire awe. But why the constant relation between the two?
Well it comes down to motor racing. In 1911, Tag Heuer unveiled something called the 'Time of Trip' function which was the first ever dashboard chronograph for cars. And ever since then, it has been a battle between the watch makers to see who could get the most precise and accurate measure of a lap time. With its thorough involvement in motor racing, it naturally progresses on to endorsement deals by drivers and having stickers on race cars. To this day, timepieces and cars have become interlinked like gear cogs, they both pursue perfection and precision but with artful design.
Here are some timepieces that have caught my eye:
Audemars Piguet Millenary Limited Edition Watch



Ferrari Granturismo GMT by Officine Panerai



Parmigiani Fleurier Bugatti 370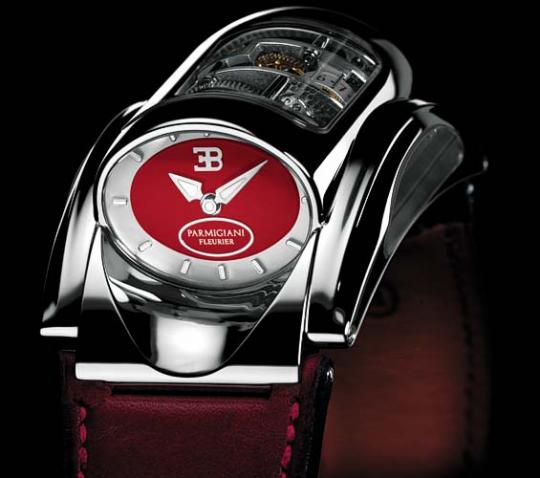 timepieces

,

exclusivity

and 1 more...
Viewed: 611 times