Smile Makers Dental Clinic Pte Ltd
Smile Makers Dental Novena Clinic is a dental practice for the whole family.
Smile Makers Dental Novena Clinic is in Novena Medical Center, centrally located just above the Novena MRT station. Our dentists provide a wide range of services for all members of the family.
The goal of our dentists is to educate you on your dental health so that you can achieve a beautiful smile and keep your smile through life.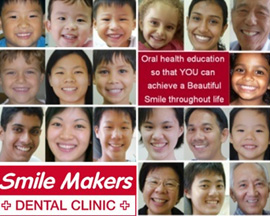 Why Choose Us?
Our Services
Smile Makers provide a range of dental services for all members of the family.
Such as:
Straightening of teeth with Orthodontics (Braces) or Invisalign.
Tooth-coloured fillings to make decayed teeth look whole and natural again.
Metal-free crowns and veneers to improve shape and colour of teeth.
Replacement of lost teeth with bridges, Dental Implants and dentures
Wisdom teeth removal.
Scaling and polishing to prevent Gum Disease.

In short, from Smile Makeovers to Smile Maintenance.

If you are curious about cosmetic procedures or ways to improve your smile, read our page on the Cosmetic Dentistry: Five Ways to Improve Your Smile.

Our work does not end when you achieve a beautiful smile; we work to help you maintain that smile for life. We are proud of the patient education provided by all members of our team. Click "Keeping Your Smile" to learn what can be done.

To know what is best for your condition, make an appointment with us for an examination of your condition. After that we will discuss with you the treatment options available and the fees for each option. You can then decide on the treatment most suited for You.
 
How To Go To Smile Makers Dental Clinic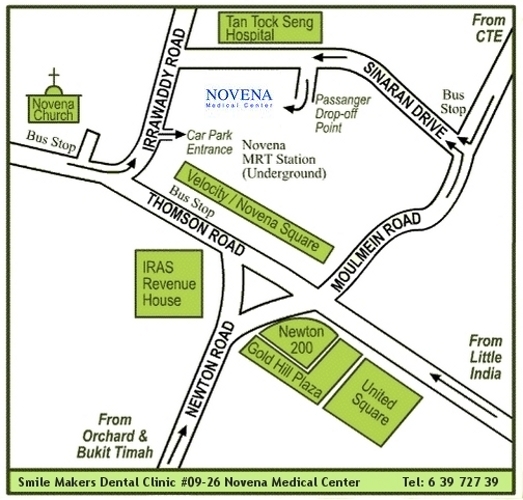 Address:
Smile Makers Dental Clinic
#09-26 Novena Medical Center
10 Sinaran Drive
Singapore 307506
Telephone: 6397 2739
Email: .com.sg' class='bbc_url' title='External link' rel='nofollow external'>info.com.sg
MRT Station: Novena
Buses: In front of Velocity: 21, 56, 57, 131, 166, 851, 980
             In front of Novena Church: 5, 54, 128, 143, 162
             At Moulmein Road: 21, 124
Parking: 5th – 7th floors of Square 2 (entrance at Irrawaddy Rd)
Mon-Sat : 7am- 6pm
 $1.60 for 1st hour; $0.80 for  each subsequent half hour
Consultation Hours:
Monday-Wednesday: 8:30am to 6pm
Thursday: 8.30am to 4.30pm
Friday: 11am to 7pm
Saturday: 9am to 5pm
Sunday & Public Holiday: Closed