DipGraphics is a Water Transfer Printing Service provider that is based in Singapore. Our mission is to help you achieve market differentiation through water transfer printing. Come customise your World with us!
We offer competitive pricing with FREE worldwide shipping. Whether you are an individual who wants to add a little 'je ne sais quoi' to your belongings, or a company looking to create limited edition product design, we've got you covered.
How DipGraphics Started?
Our story started with 2 graduate engineers, who did some online selling as a way to earn extra income from home. While doing so, we realised we were promoting the exact same products as the ones available in the marketplace. Hence, we decided to boost the products' attractiveness and commercial value through water transfer printing. Since then, we have done many customised projects for both local and overseas customers.
We cover anything from automotive to household items, hobbies such as nerf guns, drones etc.
WHAT ARE THE MATERIALS SUITABLE FOR WATER TRANSFER PRINTING?
There are a wide variety of materials that are compatible such as metals, plastics, fiberglass, etc. Some materials would need a special surface preparation and base coat, but the general rule is as long as the material can be dipped into water without damaging it, water transfer printing can be done.
Some of our past projects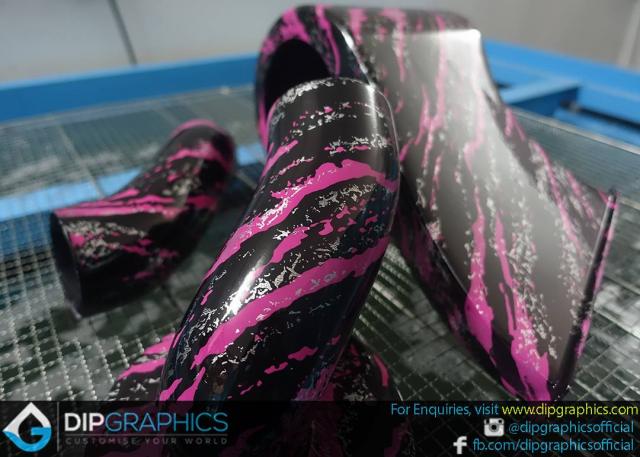 Non Automotive Items
Step by Step on our Youtube page -
OUR DESIGNS
We bring in many popular designs and for each pattern, we have the ability to change the color effects, giving you unlimited possibilities which are only limited by your imagination.
Looked through our designs but nothing that interest you?
Stay tune as we update more of our current past and present projects in this space!
CONTACT US!
Tel: Hyder: 90221197 / Sufian: 98757207
Website: http://www.dipgraphics.com/
Facebook: https://www.facebook...ficial/?fref=ts
Instagram: http://instagram.com...raphicsofficial
Youtube: http://youtube.com/c...raphicsofficial
CONTACT US!
90221197 / 98757207