http://www.youtube.com/watch?v=gIN9B7_cZBw

If you are a highly-driven individual who aspires to excel in the corporate rat race, here's the furniture to make you feel more driven. The PitStop Furniture Line by California based company, Intro-Tech Automotive, is offering a lineup of motorsports-inspired office furniture.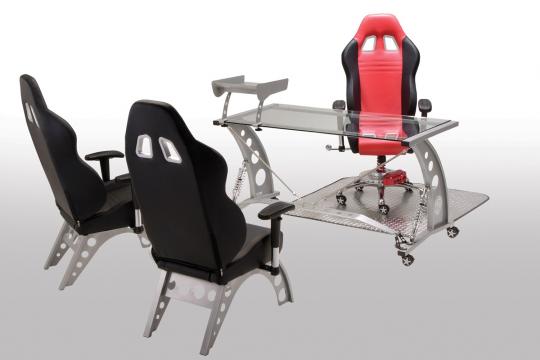 According to the manufacturer, this automotive furniture line is engineered and manufactured using the highest quality components available. The table top is covered with tempered glass and the bottom of the table has a pair of metallic shock absorbers which helps to absorb the impact from an angry boss banging his table (just kidding).
The design of the chair looks very interesting though. It has the shape of a body-bugging buckle seat with nice details such as the aluminum gearbox knob that controls the height mechanism and alloy rim design for the castors. The brake disc at the base of the chair and suspension coils at the arm rests are unique too.
The furniture design is patented world-wide and carries a lifetime warranty. However, I guess it won't be long before we can find similar furniture in some corner of China.
Intro-Tech automotive also manufactures other car-related products such as floor mats, car covers and sunshades. More information about the company can be found here:
http://www.intro-techautomotive.com/
furniture

,

other news

,

america

and 10 more...
Viewed: 1,392 times