It looks like Toyota had enough of being criticized for producing bland-looking cars. With the launch of the all new 2013 Avalon sedan at the New York International Auto Show, it has shown the world that the Japanese brand too, can produce cars with a dynamic exterior.
The new Avalon is designed at Toyota's Calty design facilities in Southern California. It sports a sloping roofline and a large lower front grille which reminds one of the Peugeot 407. The rear third-quarter view of the car bears resemblance to Citroen's handsome C5. The brake lights feature LED technology and I personally like the integrated dual exhaust system. Measuring 4960mm (L) x 1835mm (W) x 1460 mm (H), the new model is slightly smaller in all directions as compared to its predecessor.
Moving on to the interior, the dashboard has a simple, Zen-like feel to it and is not cluttered with buttons. The gearbox housing has a modern and compact design while the leather-stitched cup holders next to it certainly bring up the sense of quality. The interior features a multi-information display panel, climate control system, dynamic radar cruise control and a three-zone air conditioning system.
In the new Avalon, Toyota has also improved its chassis to enhance the ride comfort and handling ability. It offers three drive modes, namely normal, Eco and Sport. Toyota did not provide any details on the engine options.
It is a pity that the Avalon is not available locally. I would readily choose it over the 2012 Camry, which has been launched in Singapore recently.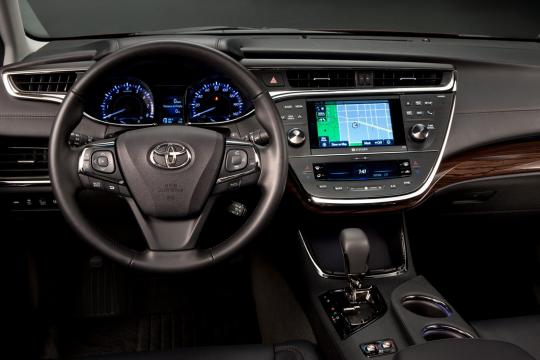 new model

,

events

,

motorshow

and 6 more...
Viewed: 1,013 times