McLaren Automotive is probably the newest automotive company (In terms of road cars) but one with a long and rich history, that could even match the likes of Ferrari and its racing team.
Besides the legendary McLaren F1 and the Mercedes collaboration for the SLR, the British marque is synonymous for its racing programs and on track rivalry with the Italian Stallion in Formula One.
You know like Manchester United and Liverpool in soccer or Roger Federer and Rafael Nadal in Tennis or.. well you get the idea. 12 months ago, McLaren launched the MP4-12C supercar to rival the likes of the R8, Gallardo, and the 458 Italia. The first anniversary of McLaren Automotive passed on June 21st, and we look back at the rather busy year for the company.
Inside the McLaren Technology Center Global retail network in 22 countries.
Through four regional offices, each with its own management team, McLaren showrooms are now located in some of the most prestigious locations around the world including Singapore.
Official opening of the McLaren Production Centre (MPC)
Prime Minister David Cameron officially opened the new MPC in Woking and said that he hasnít seen anything similar, describing the work as "inspiring". He also commented that his visit was a great reminder that Britain still had world class engineering, manufacturing and production techniques.
Walpole award for Best British Luxury Brand
McLaren Automotive emerged as the winner for Britain's most revered luxury firms. On collecting the award McLaren Group & Automotive Executive Chairman Ron Dennis said, "We set out to build a world leading automotive business, manufacturing and marketing category leading and high-performance vehicles. To be recognised by such esteemed peers as having also built Britain's Best Luxury Brand is both an honour and reaffirmation for our team that we are moving in the right direction."
Launch of McLaren Special Operations
McLaren Special Operations is responsible for tailored McLaren sports cars. "McLaren Automotive already offers 12C customers extensive options to personalise their car. However we recognise some owners have specific tastes and we have the knowledge and capability to old.
That is quite a long list that McLaren has achieved in just 12months!
Managing Director Antony Sheriff says, "This is a proud moment in time for everyone at McLaren where, in only 12 months, the 12C has established itself as one of the most acclaimed high performance sports cars in the world amongst a very discerning customer. From the day that Lewis Hamilton and Jenson Button officially opened our very first showroom in London, McLaren is now present in 38 cities in 22 countries across the globe. At the heart of this journey is a single-minded focus on the very highest quality and personal care and support wherever our customers are in the world. That is what our customers expect after they buy the car, and are just as important as a fast lap time."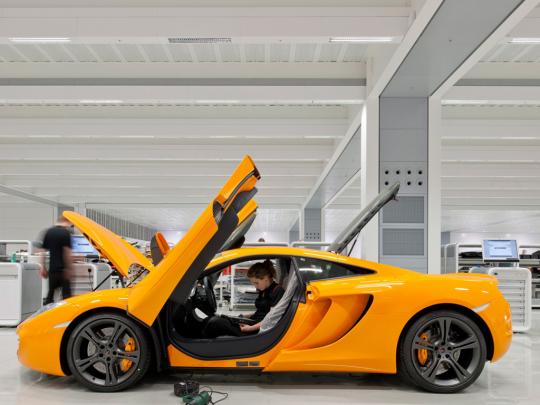 motoring

,

super cars

,

discussions

and 11 more...
Viewed: 1,645 times