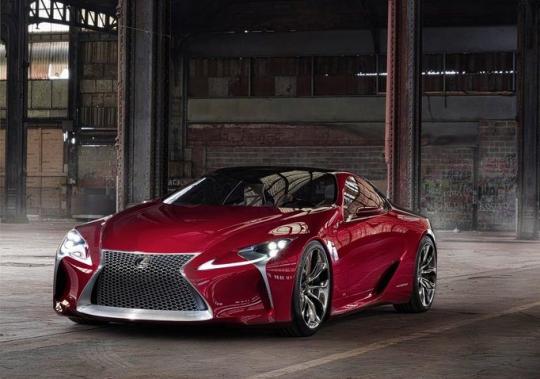 According to Automotive News website, several insiders have confirmed that the beautifully-sculptured Lexus LF-LC concept will "almost certainly" make it to production due to overwhelming reaction.
"There has been a lot of interest from dealers and distributors," a Lexus official said. Back in January 2012, company executives said that the flashy 2+2 sports coupe was not planned for production. The exotic concept was presented at the 2012 Detroit Auto Show back in January and won the 'EyesOn Design Award'.
Ever since the production of the Lexus SC430 coupe ceased in July 2010, the premium Japanese car maker do not have a direct competitor against the likes of the BMW 6 Series coupe and Mercedes SL. The above news should cause some discomfort to the German management at Bavaria and Stuttgart.
Company insiders commented that a production version of the LF-LC would be more advanced technologically than the slow-selling SC 430 coupe and it would be more of an LFA "lite" than a traditional coupe.
Rumor suggests that the road-going LF-LC might borrow the front-engine, rear-wheel drive platform from the recently launched GS sedan. The new car may also be powered by the Hybrid drivetrain that is currently under the hood of the GS450h.
The new supercar would be targeted further upscale, against the Porsche 911 Turbo and Aston Martin Vantage.
new model

,

concept cars

and 8 more...
Viewed: 459 times