United States president Barack Obama's second inauguration took place just recently. As usual, the president arrived in the presidential state car which is commonly known as the Cadillac One or at times, The Beast.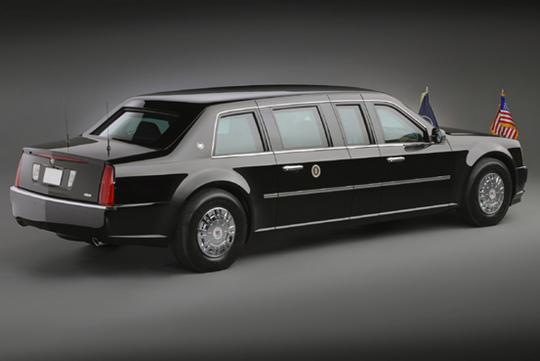 Not much is known about the vehicle as its specifications are heavily guarded by the US Secret Service. But, over the few years, some of these heavily guarded secrets were leaked out and below are some of the things you donít know about the Cadillac One.
First of all, it isn't exactly a Cadillac. The Cadillac One's chassis, engine and transmission are based on a Chevrolet Kodiak which is a heavy duty commercial vehicle. Standard Cadillac production parts used such as the headlights, keeps the vehicle looking like a Cadillac.
Many of us would know that the Cadillac One is an armoured vehicle but calling it that is somewhat an understatement. The armour plating on the car is said to be eight inches thick and the doors weight are as heavy as the ones on a 757 Boeing airplane.
The five inch thick glass windows could easily put off any range weapon attempts. The large sized tyres are from Goodyear and they are Kevlar-reinforced run-flats which can keep on going for some distance when it is needed.
The interior cabin is sealed off from the outside in case of any chemical attacks and the fuel tank is insulated with special foam, in case of any strong impact.
The Cadillac One is said to be very well-equipped. In its trunk, there are fire fighting equipment, oxygen tanks and also vials of the president's blood type. There are also various types of weaponry such as tear gas canisters, shotguns and supposedly, grenade launchers.
The weight of the car is rumoured to be almost 20,000 lbs (9071kg) and it does the century sprint in 15 seconds, which is more than most cars we see on the road today. The car's top speed is maxed out at 60mph (96km/h).
The Cadillac One uses a diesel engine and there are reasons why it does so. Other than the durability of diesel engines, diesel has a low volatility that reduces the risk of it exploding.
Since it is a long and heavy vehicle, the Secret Service drivers are highly trained in order to handle the car. They can execute tight turns and other evasive manoeuvres in case the situation turns ugly. The drivers have gone through extensive training and the training is done with the help of General Motors' engineers and test drivers.
other news

,

america

,

cadillac

and 9 more...
Viewed: 1,857 times