The vehicle that you see here pretty much looks like a three-wheeled motorcycle. But many aspects on this vehicle are very much car-like. This three-wheeled contraption is made by a Canadian company known as Campagna Motors and it is known as the T-Rex 16S.
The Campagna T-Rex 16S is the company's latest sub-model within the T-Rex range and it is equipped with a new engine when compared to the T-Rex 14R. Let me talk about the company a little before I continue on the T-Rex 16S.
Campagna Motors has been making the three-wheeled T-Rex since the 1990s. A few years ago, they merged with another company, Cirbin which developed the wider and more fully-bodied V13R model and both models are manufactured in Montreal, Canada.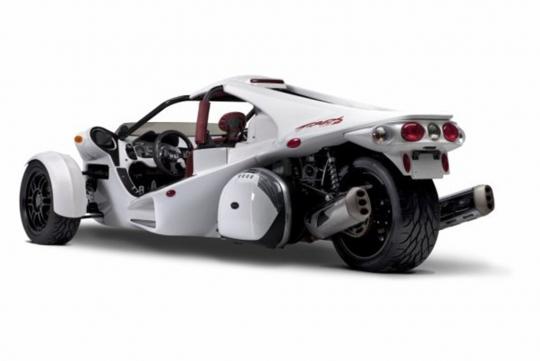 Unlike the T-Rex 14R which is equipped with a 1.4-litre four cylinder engine sourced from Kawasaki, the T-Rex 16S is equipped with a 1.6-litre six cylinder engine sourced from BMW.
Power output from the new engine has dropped to 160bhp but the torque has increased to 175Nm. The T-Rex 14R has a power output of 197bhp with a torque value of 153Nm.
The engine is mated to a six speed sequential transmission and should be able to launch the 500kg vehicle to 100km/h in less than five seconds (the 14R completes the century sprint in 3.9 seconds).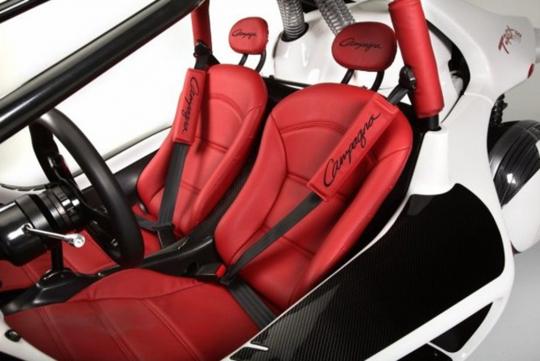 As mentioned above, much of the vehicle's features are very much car-like and one of them is the steering wheel. There is also a gear knob in the middle, two bucket seats and it has similar foot pedals that you will find in a car. In other words, anyone who is familiar with car-type controls would be able to drive the T-Rex.
The Campagna T-Rex 16S has a tubular chassis and it comes with an integrated roll cage and a three-point safety harness. The bodyshell is made out of fibre glass and accentuated with several carbon fibre parts. The T-Rex 16S is available in eight different body colours and the one shown here is in Winter White.
Due to its car-like features, the company has mentioned that most of its customers are car enthusiasts and most of them are attracted to the vehicle's ride stability and its unique looks.
Image credit: Campagna Motors
new model

,

other news

and 11 more...
Viewed: 1,699 times