Targeting the younger people aging somewhere around their twenties in China, the Friend-ME Concept is Nissan's approach for decades to come that may give other automakers a run for their money. Nissan claims that the car has been designed for those who have a very distinctive automotive outlook. The reason why Nissan is targeting youths is because Nissan believes it will shape the global automotive trend in the decades to come. This was revealed by Nissan's Advanced Planning and Product Strategy Division General Manager, Fancois Bancon.
Looking at the design of the car, there's nothing wrong for Nissan to be proud of its Friend-ME Concept. Sporting both flowing and edgy lines, the car is able to sit four passengers altogether in a spacious and comfortable cabin. Speaking of the cabin, it's here that all the main attractions lie. Featuring a cockpit-like cabin, the car enables all the passengers inside to access everything the car has to offer. This is an unconventional approach that we aren't likely to get with other cars, at least not for now.
According to Nissan, this is possible thanks to its console that the company considers to be kind of like an 'Oracle Stone'. With the so-called 'Oracle Stone', everyone inside (not just the driver) the car will be able to have a look at the road in front of them, access music, navigation, speed, and a lot more. As we mentioned earlier, this is something that other cars can't offer us at present. Nissan said, "Our console is like an Oracle Stone that gives the Friend-ME crew the power to look down the road ahead, over the horizon, through walls… to anywhere in the online world. As they cruise through an entertainment district, the console reveals the scenes playing out in each building they pass. We've anticipated where automotive online is destined to go – and it's bound to be exciting."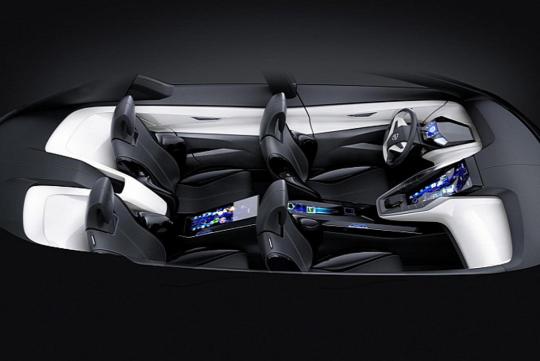 The Japanese automaker has yet to confirm, though, when the Nissan Friend-ME Concept will be ready for production. As of now, the pictures and accompanying video are all we have for you. Of course, if you were in Shanghai, you should have seen the car with your own eyes at the 2013 Shanghai Auto Show.
new model

,

new technology

and 8 more...
Viewed: 888 times