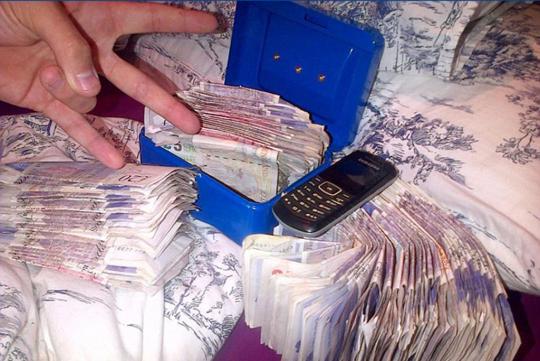 You know what they say, "Do whatever you want, just don't get caught!" Unfortunately (or thankfully, perhaps), these teenage car thieves in the United Kingdom don't seem quite knowledgeable about such a saying. Instead, these thieves just seemed so proud of their 'stealing' ability that they even shot pictures of themselves with the cars they had successfully stolen. What amazes me more is that they even posted the pictures on Facebook, a world renowned social media, and on their phones! This led the local police to catch them red-handed, or should I say, 'bread-handed' (you'll see why). It's a real 'shame' to the world of Grand Theft Auto. Speaking of Grand Theft Auto, it reminds me of the action adventure packed car theft game, the latest trailer of which will be shown on 30
th
April 2013.
Alright, let's get back to topic. To be honest with you, these teenagers, aged from 18-23 years old, were quite an expert indeed. Comprising eight members, they managed to successfully steal nine high performance sports cars that were, and still are, very expensive. Porsches, Range Rovers, BMWs, and a Mercedes Coupe worth £100,000 (S$191,000) were some of the cars they drove away from the houses of their rightful owners. Judging from the list of cars they had stolen, it led me to believe that the Mercedes Coupe was the gang's 'trophy' car. The criminals committed their crime by performing surveillance on their target houses that had expensive cars parked either in the garage or the driveway. The gang would then break into the houses, steal the car keys besides other electronic stuff and jewellery of high value, and then drive off with the targeted cars.
However, being experts in Grand Theft Auto as they were, they just weren't brilliant enough in things other than that, it seems to me. You see, one of the car thieves - identified later on to be Conor Murphy, 19 - posted a picture of him on Facebook that showed as if he was about to eat two loaves of bread with £20 bills in between. What's this called if not plain dumb…? This picture was one of many that helped the local police department catch them red-handed, oops… I meant - 'bread-handed'.
Fortunately enough for the police, it wasn't too hard to find the rest of them once one of them was arrested. All the gang members were as connected in the real life as they were on social media. The most helpful picture for the detectives in the country was one that showed a gang member sitting on the bonnet of a black Range Rover he had stolen. Mind you, he wasn't hesitant (again) about uploading the picture to Facebook!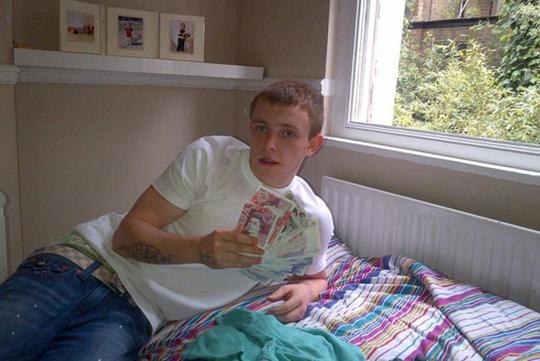 That particular picture had led the local police officers to find an array of other incriminating pictures - including the 'bread-handed' one mentioned earlier, both on the aforementioned social network site and also on the phones belonging to the gang members. You can see in the images that the members of the gang were so proud to boast their wealth, though it wasn't rightfully theirs, no, not at all.
Other pictures that members of the criminal gang shot, showed them putting Rolex and Cartier watches on their hands, sitting in the cars they stole, drinking champagne, and posing with huge piles of £20 and £50 bills.
Besides the pictures, the police were also assisted thanks to a few videos showing members of the gang racing in the cars they had stolen. Heck, you haven't heard everything just yet. In the videos, they even bragged about the next list of cars they were planning to steal. The police also discovered Blackberry Messenger messages the gang used to communicate with one another to plan their next burglary. Hmm… I wonder, how much stupider can they be?
These men were taken into custody as part of intelligence-led Operation Decker after a series of dawn raids. Seven of the criminals pleaded guilty earlier this year whereas the other, identified to be 18-year old Rory Mason of North Kensington, denied any involvement in one count of the burglaries. However, last month, after a trial that took a whole week, the jury found him guilty as well. Just so you know, this Rory Mason posted a picture of himself posing with a huge pile of cash, too. You can see his face on the image just above this paragraph. Strangely enough, he seemed to be kind of smiling when arrested by the police.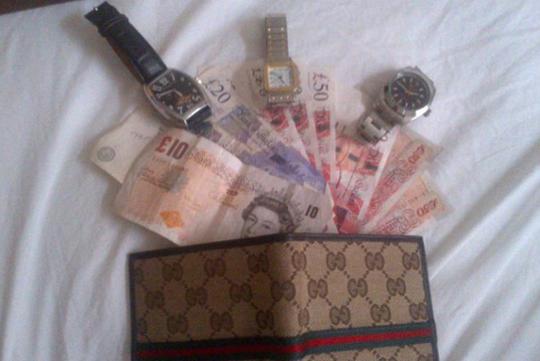 The Isleworth Crown Court in London, England, had the gang members testify how they planned to and eventually stole highly valued cars from those houses they had broken into. It was also discovered that from April to September last year, the gang had broken into houses situated in Kensal Green, Kensington, and Notting Hill where they stole the nine luxury cars along with valuable electronic stuff and jewellery.
Prosecutor Mark Paltenghi mentioned that the gang's principle was to have their eyes on houses with valuable cars inside. However, he also mentioned that it wasn't their sole aim.
The 'principal conspirator', 20-year old Kalan Williams, pleaded guilty to 11 of the raids committed by his gang. There was also a footage used in court to prove that he was guilty. It was taken from a police helicopter and showed Williams trying to escape the police and dropping the key to a stolen Land Rover.
While investigating him, the British detectives who were involved in the case discovered that Williams had three sets of stolen car keys, two of which belonged to an Audi and a BMW - both confirmed as having been stolen - whereas the other model had yet to be figured out. The detectives figured this out after having discovered a picture on Williams' phone to prove it.
Williams also had another picture on his phone showing him sitting in a Porsche 911. Police later discovered that the car was stolen from a Stamford Brook house on 26th July 2012. At the very same night and from the very same house, a BMW was also stolen. However, thanks to the idiotic racing video recorded by the gang members themselves, police had even more evidence to take them into custody. The video revealed Jonathan Ariba and Akil Ford (both of whom were 20-years old), Niah George, Murphy, and Williams cruising at high speeds in the stolen cars around the streets of west London. The video revealed the criminals passing to one another the phone they used to film their intense yet idiotic racing action.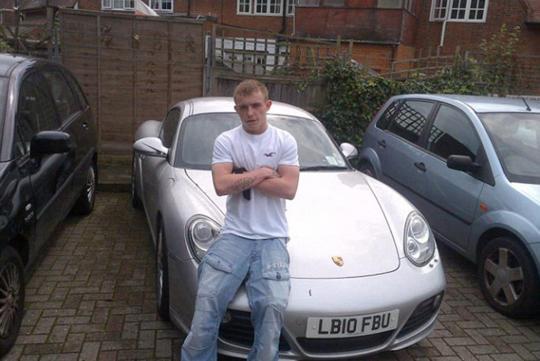 The cars raided by the gang included a Volkswagen Golf, a Range Rover Sport, a Land Rover Discovery, an Audi Q5, a Porsche Cayman (pictured above), a Porsche 911, two BMW 6 Series, and a Mercedes C 63 AMG. In total, they were all worth hundreds of thousands of pounds. It still has me amazed to know that the gang could raid all the cars within only five months' time.
Remember the gang's 'trophy' car I mentioned earlier? It's a good thing that the police happened to recover the car and has since returned it to its rightful owner. That said, it's not like the criminals wouldn't try to steal the car, or any other car, again. Instead, they did just the opposite. The criminals tried to steal their 'trophy' Mercedes C 63 AMG coupe again even after the police had recovered the car and returned it to its rightful owner. Well, bad habits die hard, I suppose. However, all they found was that the car had been reprogrammed. Too bad… wait, honestly, it's good.
Aside from that, in September last year, police discovered that three of the gang members, identified to be Daniel Talbot, Williams, and Murphy, tried to steal a laptop in addition to a Maserati from a Notting Hill house but had to run away empty handed as the owner found out about their actions.
The complete names of the criminals are Kalan Williamson of Chelsea (20), Jonathan Oriba of Notting Hill (20), Yassin Imlahi of Kensington (19), Daniel Talbot of North Kensington (23), Niah George of Hammersmith (18), Akil Ford of Clapham (20), and Conor Murphy of North Kensington (19).
The gang leader, Williamson, was sentenced to four years and eight months of jail. Conor Murphy was sentenced to four years of jail for conspiring and eight months for driving dangerously, Jonathan Oriba was sentenced to four years imprisonment, Niah George was given three years and ten months, Daniel Talbot received four years, Akil Ford - taking into account his former 24 convictions - got four years, and both Rory Mason and Yassin Imlahi were sentenced to three years jail.
After the criminals were arrested, the U.K. saw a considerably decreased burglary rate in the Kensington area, by a margin of 48 percent.
Well, if you're going to picture yourself with someone else's car, you should at least consider covering the license plate. Nevertheless, please note that I do not, in any way or by any means, condone or encourage you to steal other people's car!
events

,

other news

,

motoring

and 34 more...
Viewed: 2,227 times