The automobile industry's focus on safety in the past two decades has completely changed the way consumers shop for vehicles. Nowadays, features such as side airbag protection and anti-lock brakes are as important to a consumer as fuel efficiency or reliability.
There is one aspect of automobile safety, however, that most people give relatively little thought to, and yet is pivotal to the safety of a car - the windshield.
Windshields and the importance of protecting them
Many people do not realise that windshields of today are actually safety devices in themselves, designed to work in conjunction with the other restraining systems of the car. Airbag systems, for example, require the strength of a properly bonded windshield in order to function properly. If the airbag deployment causes the windshield to pop out, the airbag will not provide the intended protection for the passenger.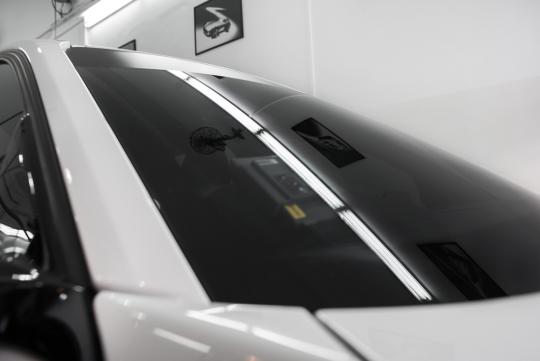 Windshields are responsible for up to 30 percent of the overall structural integrity of a car. The strength of the windshield helps prevent roof cave-ins in rollover type accidents. An important factor of which many drivers are not aware is that the original factory-installed windshield is by far the strongest and best protection for the vehicle. A replaced windshield, even when performed by a qualified technician, will never be as strong as the original.
Nevertheless, windshield damage does occur. Common windshield damages include chips and cracks inflicted by flying road debris. The vulnerability of windshields is largely due to the composition of glass. Although it appears smooth, glass actually contains bumps and ruts invisible to the naked eye. As tiny debris flies through the air it becomes lodged in these microscopic flaws, resulting in windshield cracks.
Is there a solution?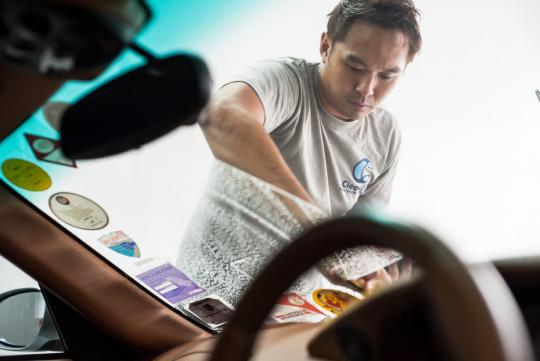 To avoid windshield damage and hence windshield replacement, owners can invest in products such as protective films or chemicals designed to absorb impact. Protective films are typically applied to the exterior of the windshield and reduce the damaging effects of items like flying pebbles or rocks. The impact of debris that may shatter an unprotected windshield often causes just a minor chip, if at all, in one covered with a protective film. Specially-formulated chemicals similarly protect windshields by bonding with the surface of the glass and smoothing out the microscopic imperfections.
ClearPlex - Invisible Windshield Protection Film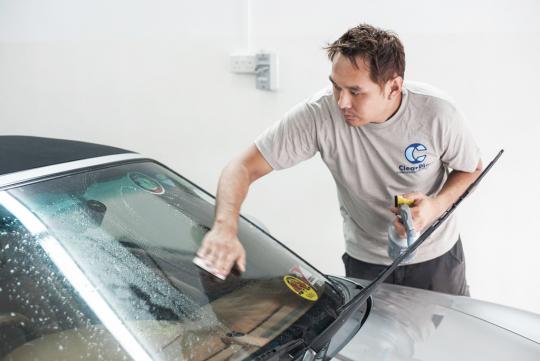 ClearPlex is a patented film applied to the exterior surface of a windshield, preventing damage from ordinary highway rock strikes and road debris. ClearPlex is virtually invisible, providing optical clarity and UV protection.
The product is the first and only optically clear protection film for vehicle windshields and is designed to take on whatever the road dishes out - leaving the glass in pristine condition.
Benefits of ClearPlex
As said, pebbles, rocks or other debris on the roads can cause damage to the windshield. With ClearPlex installed, impact from the damage which will shatter normal, unprotected glass only leaves a small dimple on the film, thus protecting the windshield and leaving the glass completely undamaged. This could prove critical at the point of impact as shattered glass would impair the driver's vision and ability to navigate.
ClearPlex presents a whole new vision in the world of windshield protection. The film is guaranteed not to bubble, peel or crack - providing virtual invisibility for the warranted life of the film. In addition, ClearPlex is also scratch resistant and can withstand everyday wear and tear such as abrasions from windshield wipers.
ClearPlex also features UV stabilisers which help to reduce the amount of heat and glare, thus protecting the vehicle's interior and its occupants against 99.9 percent of UV rays.
Installation of ClearPlex is also fuss-free. Fitted thermally to the curve of the windshield, ClearPlex forms a bond with the glass, thereby ensuring optical clarity and adhesiveness. The adhesive is strong enough that even high-powered car wash jets do not cause the film to be lifted from the windshield.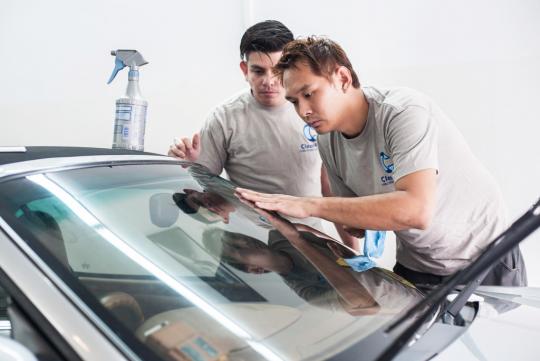 Depending on the make and model of the vehicle, installation takes only less than two hours by a certified installer, providing much convenience to consumers who may be tied down with other commitments.
Why Eurohaus Tuning Pte Ltd?
In Singapore, ClearPlex is offered by Eurohaus Tuning Pte Ltd (EHT), a company synonymous with quality aftermarket parts and accessories. With over a decade of experience in providing quality solutions to their clients, Eurohaus Tuning started its research on windshield protection over 4 years ago.
Through frequent dialogues with their clients, EHT realised that many of their clients drove for long distances and had negative experiences with chips and cracks on the windshields as well as windshield replacements.
ClearPlex was the result of this research in the various options available, concluding it as the best protection possible for windshields and in keeping with their maxim of 'Performance, Precision and Passion'.
The installers at EHT have been professionally trained by ClearPlexUSA and are duly certified. The company will work with interested installers to help them get certified, ensuring that all ClearPlex installations in the country conform to their exacting standards.
EHT, in its constant quest for better and integrated solutions for their clients, will soon be launching more options in automotive glass protection and will progress to paint protection shortly.
Eurohaus Tuning is located at 13 Kaki Bukit Road 3, Eastpoint Terrace, Singapore 417833. For more information, please call 9680 6789 or 9220 5676.
clearplex

,

clearplex asia

and 14 more...
Viewed: 3,304 times