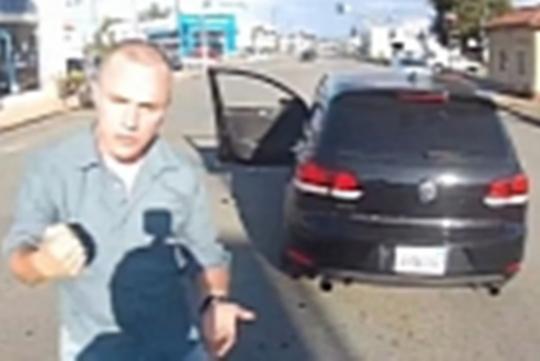 While you're driving on the road, one rule of thumb that you'll always have to keep in mind is to be careful, real careful. You have to watch out not only for vehicles to avoid a crash, but you'll also have to beware of drivers who may go mad at you, even if you think you've done not even a single thing that's wrong. I believe you don't want to experience what this motorcycle rider did.
Unfortunately enough for the motorcycle rider, he got slapped in the middle of the road by a guy driving a Volkswagen Golf. Honestly, this Golf driver is kind of stupid, I would say, thinking that the motorcycle rider was trying to race him. He claimed that the rider was riding aggressively while in fact it was the VW Golf driver himself who was an aggressive driver and the public could see it as well.
Based on what we can see in the video, in addition to the statement from the motorcycle rider which seemed true, we tend to believe that the Golf driver was entirely wrong. Besides, had the motorcycle rider tried to race him, he would have gone past the VW Golf way ahead, keeping in mind how motorcycles can easily slip through traffic whereas cars can't. In addition to that, most of today's motorcycles have really fast acceleration. Just try to recall for yourself, how often have you seen motorcycles going past cars so easily? I believe it happens nearly all the time.
However, the response of the motorcycle rider is somewhat cool, I should say. Instead of fighting back, he chose to report the aggressive driver to the local police department. All that's left to do now is to wait for police investigation to complete and it should not take long as the Golf driver had already been identified.
According to the rider, one little slap was no big deal, but had the Golf driver hit him the second time, he would have taken his revenge and things would have gone out of hand. Furthermore, the motorcycle rider was putting on a full face helmet, carbon gloves, and protective gear. With that being said, you should be able to imagine how bad things could have gone for the stupid guy in the VW Golf. Well, two thumbs up for you, motorcycle rider!
motoring

,

events

,

traffic

and 12 more...
Viewed: 2,823 times