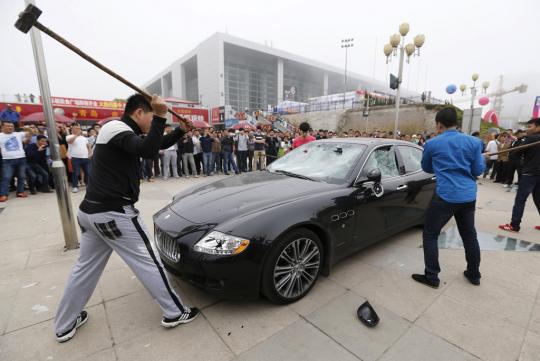 Most of us probably think - at least I do - that luxury cars are perfect. Their brands alone have often reflected how top notch they are. Brands like Ferrari, Porsche, and Maserati (among others) are few good examples. However, believe it or not, that will be so true if, and only if, we are living in a perfect world. Speaking of which, unfortunately, this world is not perfect.
This recent event in China just proved it even more so. A pretty rich Chinese man decided to destroy his Maserati Quattroporte on 14
th
May 2013. Mind you, the car costs 2.6 million Chinese Yuan which is equivalent to approximately S$526,000.
The Chinese guy hammered his car in front of the crowd witnessing the Qingdao International Auto Show which started on the aforementioned date. According to the man, he destroyed his car to protest against the Maserati dealer he bought the car from.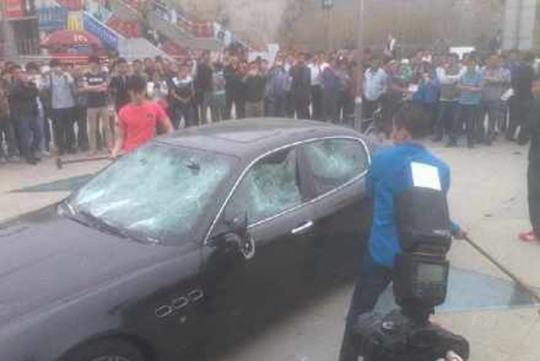 However, I would say that the event was actually the peak of a problem which started back in 2011, as reported by Car News China. At that time, the owner encountered a problem with his Maserati and so he contacted Maserati China. There was a fault with one of the car parts and, considering the car was still under warranty, the owner should have received a replacement for free. Surprisingly, though, Maserati China decided to charge him for a refurbished used part. Well, I guess the dealer must have thought that it was worth it for the 'repair' although I can say it's actually not worth it.
Now, seeing that the owner decided to finally destroy his really expensive car, I believe that the guy is really fed up with the dealer. I, for one, can understand the guy. You see, even for a car priced far below the price of the Maserati Quattroporte, we can get engine swaps free of charge as long as the car is still under warranty.
Now that I've witnessed a luxury car with quite a few faults, I guess I'll have to think over several times before deciding to buy one of my own in the future (that's assuming I can afford one, though, haha…). It seems that powerful engines aren't made to tolerate even small amount of problems, such as bad weather, low quality fuel, and so on.
motoring

,

super cars

,

events

and 10 more...
Viewed: 1,790 times