The use and types of power steering systems
Power steering has always been something that most, if not all, drivers in this world desire when it comes to driving a car. Without power steering, the steering wheel of a car often feels heavy for the driver to turn. Needless to say, this is not convenient at all. The power steering system that used to be available in most cars in the former days utilised a hydraulic system.
Hydraulic power steering system
In order to assist the movement of the steering wheel, a hydraulic power steering system counts on high pressure fluids. So, when the steering wheel is turned, the hydraulic power steering system will open up the pressurised fluid or flow such that it makes turning the steering wheel to the desired direction feel lighter.
Electric power steering (EPS) system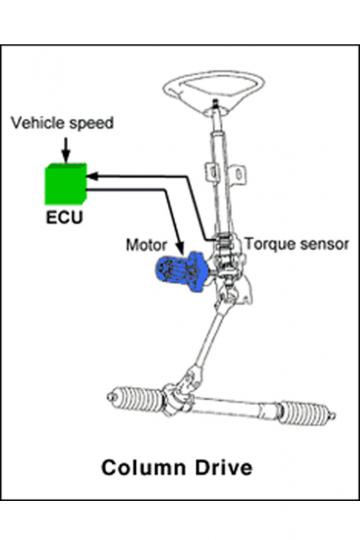 However, nowadays, it seems that most, if not all, automakers are leaving the hydraulic power steering system behind. They are more enthusiastic towards what is known as the electric power steering system. This new steering system works by taking advantage of an electric motor in addition to a control unit that features quite a few sensors. In order to function properly, the motor requires a battery as well as electric power. As everything is controlled by an electric module, the electric power steering system requires only minimum maintenance.
If you are wondering how you will be able to tell whether a car uses hydraulic or electric power steering system, it isn't so hard to figure out. All you need to do is pop up the hood of the car and see if there's any pump and power steering tube around the wall between the engine compartment and the car cabin. If you can't find any, it's very likely that the car utilises an electric power steering (EPS) system.
Newer doesn't mean better or even perfect
However, there's one thing you have to keep in mind. Newer systems don't always necessarily indicate better systems, let alone perfect systems. Newer systems often have flaws, too. Take for example the electric power steering systems of the Chevrolet Cobalt and Toyota Corolla (2005 and 2009 model years, respectively). Both models used the EPS system from JTEKT.
In the case of the Chevy Cobalt, drivers often encountered a total failure of the EPS system, resulting in temporary steering loss. As a result, it often became difficult for Cobalt drivers to stay within their designated lane. Of course, this flaw poses a great risk on the road, for the Chevy Cobalt drivers and also other drivers on the road.
In the case of the Toyota Corolla, drivers often encountered veering all of a sudden. This was even more so when the car was going at a speed over 64km/h. In other cases, there were also drivers who reported that they encountered reduced steering feel with the electric power steering system.
However, it seems that having an EPS system is inevitable these days as most new cars come with it right out of the factory. With that being said, rather than complaining about the EPS system again and again, it may be wiser for us to try and take good care of the power steering system in question.
Fortunately, it isn't so hard to take proper care of the EPS system. As a matter of fact, according to Julius, owner of Botak Seng, a power steering specialist garage situated in Fatmawati, Jakarta (Indonesia), EPS systems are mostly damaged by careless drivers.
One common problem in the case of damaged EPS is the occurrence of some kind of clicking sound while passing through damaged roads. Besides that, the vibration of the steering wheel will feel pretty hard as well.
Avoid damaged roads
In addition to that, the protective rubber may also become damaged. When this takes place, dust, water, and dirt may easily get to the steering wheel arch, eventually causing it to be rusty. You'll be able to tell that the steering wheel is rusty if you hear a noise when you turn it. Besides, the steering wheel will feel heavy too when you try to turn it.
Unfortunately, for some people, like those who are living in Indonesia, there're lots of places where damaged roads just can't be avoided. In this case, it is recommended that drivers drive their car slowly when passing through such roads.
Avoid flooded roads
Besides damaged roads, it is also advisable to avoid flooded roads, especially for Honda car owners. The reason is that the electric motor of the EPS system is installed directly on the steering wheel arch, lined with the wheel arches. So, if the car gets flooded, there's a good chance that the electric motor will see the end of its day. Of course, you'll then have to replace it with a new one as it isn't repairable.
On the other hand, some cars have their EPS electric motor installed atop the gas pedal, inside the car cabin. To find out where the EPS electric motor is installed in your car, you may want to ask the mechanic at a garage where you usually get your car serviced. This is quite a wise preventive approach, to be honest.
Inevitable condition
Well, although you think you've taken proper care of the EPS system of your car, this doesn't necessarily mean that the system won't become damaged in the end. As time goes by, the EPS system will also age. Under normal circumstances, an EPS system will start showing problems after it has come to its 5th year or the vehicle's mileage is more than 100,000 km. In this case, the EPS system is likely to start giving out noises. However, according to Julius, if the driver is careful and that the EPS system never gets flooded, the system can be used for more than five years. He also added that a simple replacement of the protective steering wheel arch rubber would do for maintenance.
Well, now that you know how to avoid damaging your car EPS system, I would recommend that you try to do so. For your information, replacing the system isn't cheap. In Indonesia, for example, it costs around Rp 1.5 million (approximately S$191) at the minimum to get an EPS system replaced.
engine

,

motoring

,

advice

,

local

and 8 more...
Viewed: 17,894 times