The garage or workshop as we know it, is usually run by men. It's a different case if you pay a visit to the garage 'Caroline's Car'. Situated in Norwich, England, this is an all-women garage (probably the first in the world, too!) that is owned and run by women. It was established a decade ago and has now received hundreds of loyal female customers. Yet, what attracts me more is how this garage started in the first place.
Well, after performing some research, I figured out that the owner, Caroline Lake, 42, used to work as an intern at a common garage. She worked at the garage for four sad years during which she didn't get paid. Can you imagine it, four straight years without being paid? That sucks! However, her hard work eventually paid off as she became the first British woman to receive a legitimate tester certificate from the U.K.'s Ministry of Transport.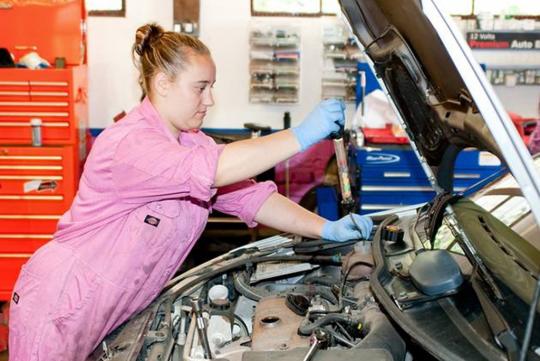 It was the increasing number of women who complained about their experiences at the garage she was working at that inspired Lake to start her own garage. According to her, most of the time, women were deceived by men who were supposedly more knowledgeable when it comes to cars. She said that it was common for women to be told that their cars needed huge fees in order to get it repaired. Heck, even worse, male mechanics at some automotive garage even tend to try and buy longer, yet unnecessary, time in repairing a woman's car just so that they can discuss about - not the car but the woman instead - sorry, my apology in advance if what I said may have offended you. While it's discouraging, it's the truth that Lake found out.
With that being said, Lake was determined to start her own garage where women will no longer be deceived and that they can have real and convenient car service experiences. Thanks to her determination and guarantee that there'll be no female customers deceived, plenty of women in her area preferred to have their car serviced at Lake's.
Quite amusingly, Lake's garage, Caroline's Car, has one typical characteristic. It is mandatory that every single employee wears a pink uniform. I'll tell you what, Lake has also recruited a male mechanic who is meant to help with heavy-duty tasks that women are unlikely to carry out themselves and this male mechanic has to wear a pink uniform too.
Having seen quite a huge success with her garage, Caroline Lake is now considering the possibility of offering her business as a franchise. She claims to be interested in expanding her business, at least in her home country. In fact, she has even started offering special courses and opening mechanical test centres to attract more women into the odds and ends of the automotive world.
motoring

,

events

,

other blogs

and 10 more...
Viewed: 680 times