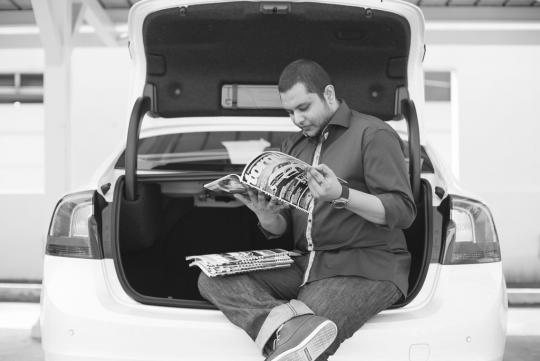 Before I start griping about the problems that I have with driving in this country, I'll like to clarify certain facts first.
I have been driving only for more than half a decade, and am only in my mid-twenties. So I guess on the experience scale I will probably rank myself in-between amateur and intermediate.
But having been travelled in a family car since I was four, and as a frequent cab user, I may actually have an idea or two on what I am blabbering about – despite typing this with one and a half eye, at 0300hrs on a Thursday morning.
Contrary to what the title suggests, I enjoy driving. I really do. I like sitting in the steel cocoon and glass that eases a motorist of claustrophobia, sitting on soft leather with the air conditioning gently blowing on me, keeping me at optimal temperature in this scorching, meat roasting heat, people call climate.
But in more recent times, the thought of driving is just draining and pissing me off.
From the rude driving behaviour and commuters who cannot follow simple traffic rules, like signalling, to the lack of parking lots and the ever increasing road works be it from Singapore Power, PUB, LTA, etc there is always a reason I get annoyed easily – which in the end disturbs my mood and mildly spoils my driving ambience.
Unlike other countries, our sparkling city state buries the original car price with multitude of taxes with fancy acronyms. Besides after bundling the already unbelievable car prices to annual road tax, concession parking charges, fuel, maintenance, etc - I find cabbing to be much cheaper and practical.
Remember the 5C's? Cash, country club and what not – I believe we can officially remove cars and replace it with cabs. With cabs, I don't have to worry about anything. Especially parking.
The only problem I have with cabbing is the rapidly reducing bank balance - depending on the frequency of usage and your monthly income. For a (lower) middle income earning bachelor like myself, who has no commitments at the moment, I can still survive.
Besides no matter if I take a cab or drive, we are all still going to be stuck in the same jam, but my travel time is likely to be faster because I don't have to spend additional time on parking. Plus, if the traffic is really heavy, I could choose to get down earlier and walk or take the train to reach my destination.
Nowadays, I only enjoy a ride when it is late at night or in the wee hours of the morning where the roads feel like how they were when I was growing up – clean and clear (not the facial product).
Yes I admit, cars today are loaded with technology to keep us distracted from everyday delays. But I am probably the only idiot who likes driving with his windows rolled down, stereo turned to near-mute or to a minimum, because at the end of a hard day's work and strenuous finger exercises typing away long sentences and toying around with Photoshop, I do not want to listen to anything but the sweet symphony of a 740bhp V12.
Or in my case, a modest 180bhp in-line six-cylinder.
But alternatively in a cab ride, I can replace all that with something more valuable - a 20-minute power nap.
local

,

singapore

,

driving

and 11 more...
Viewed: 1,924 times