As a guy with an ever increasing interest in the automotive industry, I have come across and read about several concepts and technologies from deployable rear wings, four-door coupes, carbon ceramic brakes and the engineering and development of record breaking cars like the Veyron.
But looking at the Laraki Motors' Epitome - I doubt I have ever seen a concept that is both crazy and cool.
While the shape of the Epitome largely reminds me of a cross between a Aston Martin One-77 and the Lexus 2054 concept, I believe the Epitome must have travelled from the year 2154 where the elite live in a space habitat called Elysium.
Any existence of the brand or model was premiered globally at the recently concluded Pebble Beach Auto Show. Yet interestingly, this isn't the first time the brand has attempted making cars.
Abdeslam Laraki was apparently a Moroccan designer who started out creating luxurious yachts to the elite – with his main customer being the King of Bahrain. He set up Laraki Automobiles s.a. in Casablanca in 1999 and announced two concept models, the Fulgura (above) in 2002 and Borak in 2005.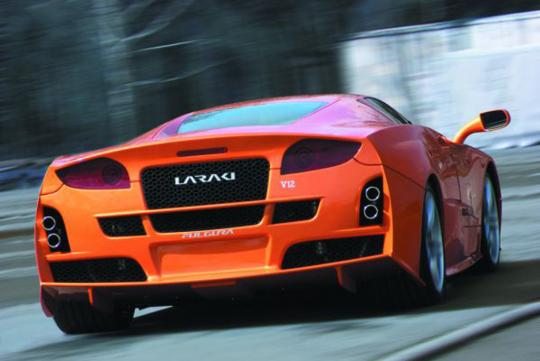 The Fulgura was based on the Lamborghini Diablo, powered by a quad-turbo Mercedes-Benz 6.0-litre V12 engine linked to a six-speed transmission.
The Borak utilises a similar power unit to the Fulgura – sans the turbocharging. Both concepts did not reach production and the firm eventually folded in 2008.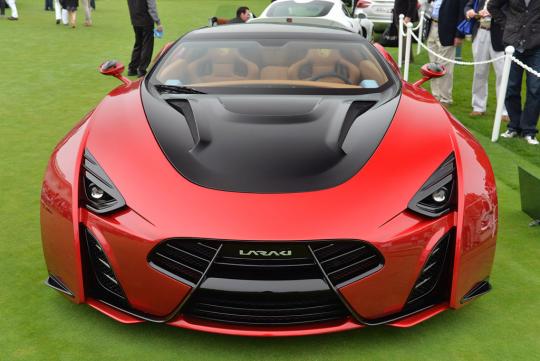 Like a phoenix it seems Laraki has risen from the ashes, but whether it meets any success is anyone's guess. Featuring a carbon fibre body panel supported by a Corvette C6 chassis, the car weighs only 1.2 tonnes.
It is powered by a twin turbocharged, mechanically reworked, 7.0-litre Chevrolet V8 with is rated st 1,200bhp on normal petrol propellant. However the car has an additional fuel tank that can hold 110 Octane fuel which provides 1,750bhp worth of power at the touch of a button. I may be wrong, but according to research - 110 Octane fuel covers anything from racing fuels, LPG or even methanol.
So I'm presuming the Laraki uses a system similar to Koenigsegg where alcohol based fuels churns out more power?
With no perfomance figures dixclosed, all that power in a light aerodynamic body could probably suggest a century sprint timing of under four seconds?
Laraki has plans to build just nine examples of the hypercar for
just
$2 million (S$2.54 million) a piece.
Perhaps when painted in stealth black, it'll suit Warner Bros' next Superman/Batman tie up film – which could provide enough exposure for the marque. Just like Audi with its endorsement porn in the Iron Man trilogy and The Wolverine.
usa

,

morocco

,

laraki

and 5 more...
Viewed: 2,891 times