The Malaysia Merdeka Endurance Race (MMER) is the only
race series
of its kind in our region. And while it only runs once round-the-clock, half of the duration of the legendary 24 Hours of Le Mans, the gruelling temperature of the Sepang International Circuit makes it tough for the teams.
This year, the race ran from 12 midnight to noon the next day, which meant teams would have it better with the cool conditions of the night first, before finishing at the hottest time of the day.
Here we have LKM Racing's Porsche GT3R. One look at the extra wide body, and it can be easily mistaken for the RSR variant.
Team Petronas Syntium looked all set and ready to continue their streak of wins - they were the champions in 2009, 2011 and 2012. Sadly though, both the #1 and #28 cars succumbed to mechanical faults and failed to finish the race.
It wasn't easy to get a clear shot of the GTR Nismo GT3, because the car was easily one the stars in the pits that night. And it certainly looks like the setup was taken straight out of the famous Gran Turismo video game.
Not to mention the GTR looked right at home on the track as well.
Audi fielded a total of four entries in this year's MMER. This #777 car is the Ultra variant, and the sole entry in the top tier GT3 class.
While the drivetrain and chassis remains identical to its GTC class sibling, the Ultra features additional body kits to give it greater track potency.
The #777 car was battling up in third position before encountering a problem with its brake cylinders.
The car finished the race in seventh overall.
Top honour went to Team Clearwater Racing with their #7 Ferrari 458 Italia GT3.
It was a much-awaited victory, especially when they missed it by just a notch
last year
, when it was leading the field for 10 hours before having to retire due to technical faults.
Lago Racing came in second place, six laps behind the winning car.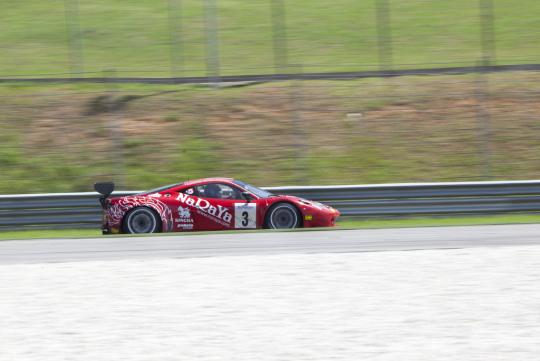 AF Corse filled the podium in third, just one lap behind the second position LP560-4.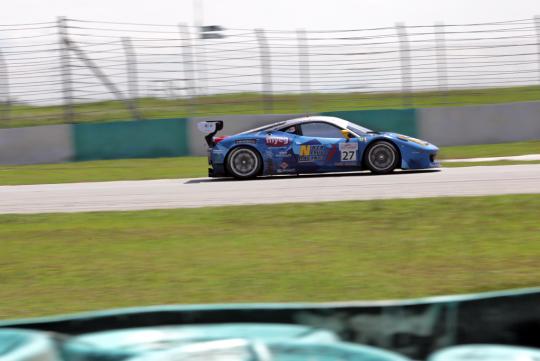 Naza Nexus Racing missed the podium by a spot, coming in a close fourth just 17 minutes behind the third place #3 458.
The blue livery is a delightful departure from the usual red that is synonymous with the Italian marque.
LKM Racing Porsche GT3R came in fifth position.
Craft Racing's Aston Martin Vantage GT3 led the field for the first hour after overtaking both of the SLS AMG GT3s from Team Petronas Syntium. It finished the race in eighth position.
mmer

,

2013

,

race

,

endurance

,

audi

and 6 more...
Viewed: 1,484 times