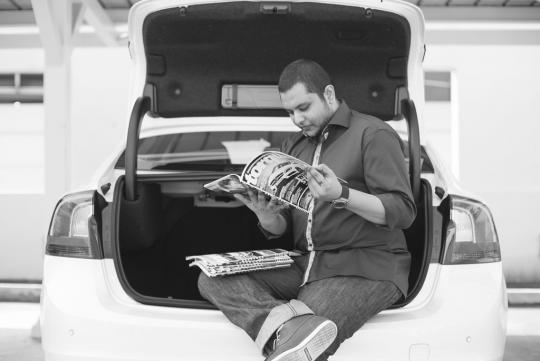 We are at the last quarter of 2013, and in a flash another year will soon be upon us. I did not realise it is the end of September until I saw Vivocity preparing for Christmas.
The movies I used to watch as a kid are being remade. Cartoons nowadays lack the entertainment feel, air travel has become more affordable, with more tourist arrivals recorded. There was no Terminal 3, kinetic rain or Project Jewel when I was a kid.
Things were simple, mechanical and, if I may add, fun.
Cars have, over the years, shed the typical boxy designs and are adapting more fluid, dynamic aesthetics complemented by exotic materials like Carbon Fibre Reinforced Plastics (CFRP) or composite aluminium or light reinforced steel. Automobiles have become faster, safer and in most cases prettier.
On one end of the scale we have the likes of Koenigsegg, Ferrari, Lamborghini, Bugatti and Pagani who are pushing the boundaries of automotive engineering by producing cars that accelerate faster, setting new records and giving fans like myself a sense of excitement. On the other end, we have cars that are greener. Hybrids, turbocharging, range extending EVs - automobiles that are trying to rectify the problem of global warming, pollution and climate change.
The way I see it, there is another group - cars that are loaded with so much driver enhancement technologies that they become...boring. Nothing but just machines with wheels and an engine.
These group of cars are usually loaded with more advanced cameras, radars and sensors than a F-22 Raptor and are usually decorated with features and novelties like Adaptive Cruise, Lane Departure Warnings, Cyclist Detection Systems, Full Braking and in the near future Autonomous driving and parking.
So in future, what is my role as the driver ?
Over the past two decades technology has evolved faster than ever with land lines almost disappearing, public phones becoming endangered, hand phones that have reduced from military grade walkie-talkies to handsome machines fashioned from a single piece of aluminium, glass and sapphire crystal.
Phones have evolved from the basic purpose of communication and networking to pocket diaries, 24-hour assistants, credible portable entertainment hubs and most importantly - has shrunk the knowledge of the world to the palm of your hand. But I don't want cars of the future to do the same.
There is a reason cars like the Porsche 911, Aston Martin, Rolls-Royce or even BMW have been marketed with specific terms. Ultimate driving machines, carpet ride, greatest/ultimate Gran Tourers. And when the machines take over (slowly but surely they will), what will cars be called?
Called me old fashioned but cars are meant to be driven and not driven in - or in this case driven by a robot. With technology replacing almost everything, including humans and their jobs, where is the novelty of living?
local

,

column

,

technology

and 14 more...
Viewed: 1,644 times