Lexus hit the right note with the GS, and the IS here is no exception. Of course, the Japanese marque didn't come all the way without a mission, and that is to topple the highly regarded 3 Series off the throne.  
With help from the BMW M division, the current 3 Series (codenamed F30) wears an M Sport kit to muscle up its already stout appearance while the Lexus IS' visual drama is further accentuated with the F Sport body kit, which sees it put on a more pronounced front lips and bigger, nicer looking rims.  
The F30's interior is unmistakably bimmer, carrying the usual hues from the Bavarian marque, such as the driver-centric cockpit and the orange-lit instruments, which boast a simplistic design and are easy on the eye.  
The IS, on the other hand, charms with its intrinsically-styled cabin, with the space-age driver's display that was inspired by the marque's halo car - the LFA. As a whole, it feels like more effort was spent in putting the IS' cabin together, though it feels slightly more cramped than the F30.  
The F30 320i packs a force-induced 2.0-litre in-line four engine, and is coupled to an eight-speed Steptronic transmission. On the other hand, the IS250's 2.5-litre V6 strictly relies on atmospheric pressure, and dispatches the drive via a six-speed automatic gearbox.  
Off the line, the 320i's sumptuous low end torque enables it to get up to pace quicker - 7.3 seconds for 0-100km/h compared to 8.1 seconds in the IS.  
The concise and well-weighted steering of the F30 provides talkative feedbacks, making it fun and engaging to drive. But the IS' V6 packs the linearity and creaminess that the bimmer's in-line four lacks.  
The biggest downside of the IS, however, lies in its price point. Still, the IS is a more complete car than the F30. And from our point of view, it is definitely a force we would like to be reckoned with.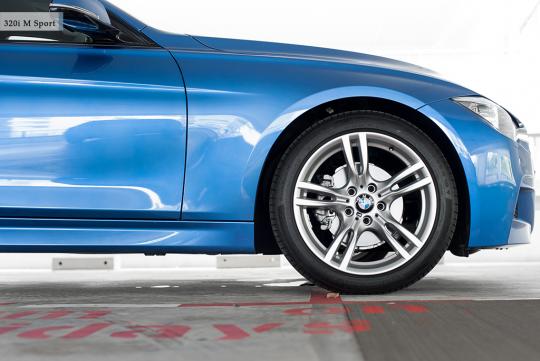 bmw

,

lexus

,

lexus is

,

bmw 320

and 5 more...
Viewed: 6,475 times