One of PlayStation's popular titles,
Gran Turismo
, will launch a sixth version on the eve of its 15
th
anniversary next month with a smattering of spectacular new rides. Mercedes-Benz is one of the manufacturers to have fully engaged its marketing engine for the launch and is helping to kick-off the virtual exercise with a spectacular 585bhp virtual concept named the AMG Vision Gran Turismo. 
The project reportedly started because of a challenge put forward by Gran Turismo creator Kazunori Yamauchi. He asked design studios from all across the globe to come up with a concept using the theme "Vision Gran Turismo". A handful of these, including the AMG Vision Gran Turismo, were selected to be transferred to the virtual world where they will be available in
Gran Turismo 6
through online updates. 
But for Mercedes, the challenge was also an opportunity to explore future design. For the German automaker, future design looks to contain extreme proportions, sensual contours and a high-tech quality. Signature styling elements for the brand are also present, including a long hood, compact greenhouse and broad shoulders.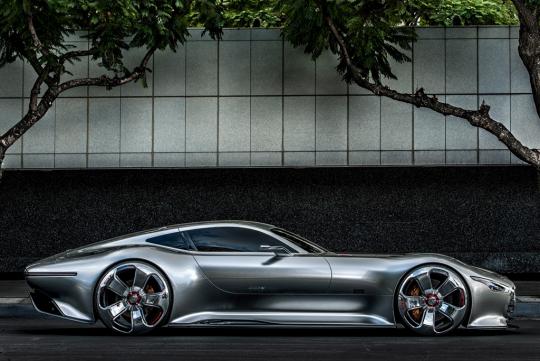 Like the recent Mercedes-Benz SLS and the 300SL from the '50s, the Vision Gran Turismo comes complete will gullwing doors. Players will be able to drive the new supercar when
Gran Turismo 6
launches in December. 
mercedes

,

mercedes-benz

,

amg

and 7 more...
Viewed: 3,719 times